01.12.2015 | Case report | Ausgabe 1/2015 Open Access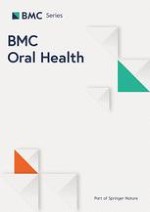 Periodontitis associated with plasminogen deficiency: a case report
Zeitschrift:
Autoren:

Sarah H Neering, Sabine Adyani-Fard, Astrid Klocke, Stefan Rüttermann, Thomas F Flemmig, Thomas Beikler
Wichtige Hinweise
Competing interests
The authors declare that they have no competing interests.
The case report was presented as a poster abstract at the Europerio 2012.
Authors' contributions
SN and SA carried out the treatment of the patient and drafted the manuscript. TB helped to draft the manuscript. AK, SR, TB and TF revised critically the manuscript for important intellectual content. All authors read and approved the final manuscript.
Abstract
Background
Plasminogen deficiency is a rare autosomal recessive disease, which is associated with aggressive periodontitis and gingival enlargement. Previously described treatments of plasminogen deficiency associated periodontitis have shown limited success. This is the first case report indicating a successful therapy approach consisting of a non-surgical supra- and subgingival debridement in combination with an adjunctive systemic antibiotic therapy and a strict supportive periodontal regimen over an observation period of 4 years.
Case presentation
The intraoral examination of a 17-year-old Turkish female with severe plasminogen deficiency revealed generalized increased pocket probing depths ranging from 6 to 9 mm, bleeding on probing over 30%, generalized tooth mobility, and gingival hyperplasia. Alveolar bone loss ranged from 30% to 50%. Clinical attachment loss corresponded to pocket probing depths.
Aggregatibacter actinomycetemcomitans, Porphyromonas gingivalis, Treponema denticola, Prevotella intermedia, Prevotella nigrescens
and
Eikenella corrodens
have been detected by realtime polymerase chain reaction. Periodontal treatment consisted of full mouth disinfection and adjunctive systemic administration of amoxicillin (500 mg tid) and metronidazole (400 mg tid). A strict supportive periodontal therapy regimen every three month in terms of supra- and subgingival debridement was rendered. The reported therapy has significantly improved periodontal health and arrested disease progression. Intraoral examination at the end of the observation period 3.5 years after non-surgical periodontal therapy showed generalized decreased pocket probing depths ranging from 1 to 6 mm, bleeding on probing lower 30%, and tooth mobility class I and II. Furthermore, microbiological analysis shows the absence of
Porphyromonas gingivalis
,
Prevotella intermedia
and
Treponema denticola
after therapy
.
Conclusion
Adjunctive antibiotic treatment may alter the oral microbiome and thus, the inflammatory response of periodontal disease associated to plasminogen deficiency and diminishes the risk of pseudomembrane formation and progressive attachment loss.
This case report indicates that patients with plasminogen deficiency may benefit from non-surgical periodontal treatment in combination with an adjunctive antibiotic therapy and a strict supportive periodontal therapy regimen.