01.12.2017 | Advances in Monitoring for Anesthesia (LAH Critchley, Section Editor) | Ausgabe 4/2017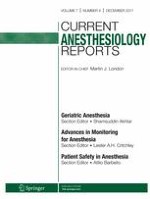 Perioperative Cardiac Output Monitoring Utilizing Non-pulse Contour Methods
Zeitschrift:
Autoren:

Yohei Fujimoto, Koichi Suehiro, Akira Mukai, Kiyonobu Nishikawa
Wichtige Hinweise
Electronic supplementary material
This article is part of the Topical Collection on
Advances in Monitoring for Anesthesia
Abstract
Purpose of Review
The purpose of this review was to provide an overview of the recent concepts regarding cardiac output measurement devices that utilize non-pulse contour methods, especially in an intraoperative setting. The techniques include inert gas rebreathing method, partial CO2 rebreathing method, impedance cardiography, and its derivative technologies such as electrical velocimetry and bioreactance, transesophageal echocardiography/Doppler, and transthoracic echocardiography/Doppler. We focused on the invasiveness of the devices and their underlying technology.
Recent Findings
Although various types of cardiac output monitoring devices are available, none of them may be considered as an ideal device in terms of accuracy, trending ability of cardiac output changes, and reproducibility of measurements. There are increasing types of devices applicable for intraoperative use, yet only few data are available regarding the trending ability of cardiac output changes and reproducibility of the measurements. Therefore, the empirical application of these devices for various surgical patients may be done under the consideration of their invasiveness and their underlying technology, and it may provide us with more data over time.
Summary
The non-pulse contour-derived cardiac output measurement devices are classified according to their underlying principles, which closely reflect their advantages and disadvantages in the perioperative setting.