01.12.2018 | Research article | Ausgabe 1/2018 Open Access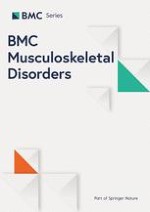 Perioperative complications after surgical treatment in degenerative adult de novo scoliosis
Zeitschrift:
Autoren:

Maciej J. K. Simon, Henry F. H. Halm, Markus Quante
Abstract
Background
Degenerative adult de novo (DAD) scoliosis appears characteristically in the sixth or seventh decade with symptoms of severe back pain and radiculopathy or spinal claudication. The aim of this study was to enhance the knowledge of perioperative complications and detect possible risk factors in this selective DAD scoliosis surgery.
Methods
This retrospective study included only patients with DAD scoliosis undergone correction spondylodesis with previous failure of conservative treatment. Excluded were patients with other types of scoliosis and previous fusion surgeries. Patient epidemiological data, medical comorbidities and treatments were included. Intraoperative data and perioperative complications were documented. Analyses regarding early, late and no complications were undertaken.
Results
A total of 92 patients with a mean age of 67.29 ± 7.93 years and clinical follow-up visits of minimum 12 months were included. On average, 5.26 ± 2.24 segments were fused. Early complications (e.g. wound healing defects, paresis, screw loosing) occurred in 23 patients and often required a re-operation. Cardiac arrhythmias, pacemaker and coumarin derivative therapies were associated with increased perioperative complications. The transforaminal lumbar interbody fusion technique was associated with early complications. Adjacent segment failure occurred in 36% and was the major late complication. Twenty patients did not have any complications in the minimum follow-up.
Conclusions
This study analysed a selective DAD scoliosis collective and its' surgical treatment outcomes. It identified numerous perioperative complications (adjacent segment failure, postoperative paresis and epidural hematoma) and multiple possible predisposing risk factors (e.g. operative techniques and anti-coagulation therapies). This here gained information raises awareness in preoperative patient selection and preparation. Further studies in DAD scoliosis and a risk-adjusted patient selection/preparation are needed to improve treatment quality and outcomes.