03.07.2019 | Regional Anesthesia (P Kukreja, Section Editor) | Ausgabe 3/2019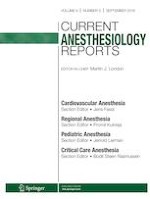 Perioperative Multimodal Pain Management: an Evidence-Based Update
Zeitschrift:
Autoren:

David W. Creighton, Amanda H. Kumar, Stuart A. Grant
Wichtige Hinweise
This article is part of the Topical Collection on
Regional Anesthesia
Publisher's Note
Springer Nature remains neutral with regard to jurisdictional claims in published maps and institutional affiliations.
Abstract
Purpose of review
The purpose of this article is to provide a concise review of recent updates and ongoing controversies in perioperative multimodal analgesia with a specific focus on systemic pharmacologic options.
Recent findings
Acetaminophen, non-steroidal anti-inflammatory drugs, and ketamine provide clear benefit for analgesia and opioid sparing, with wide safety margins at clinically relevant doses. Enthusiasm is waning for the use of gabapentinoids (gabapentin and pregabalin) and systemic alpha-2 agonists (clonidine and dexmedetomidine) due to small benefit and a potentially dangerous side effect profile (sedation). Lidocaine infusions may improve analgesia and reduce the risk of ileus, but current research quality is poor. Corticosteroids appear to improve pain control and spare opioids but, probably at greater doses than are typically used for nausea prophylaxis. There remains limited evidence for use of anticonvulsants, antidepressants, skeletal muscle relaxants, or cannabinoids but animal studies are promising, so more clinical trials are needed in humans. There is growing evidence for the routine use of non-pharmacologic pain management techniques like transcutaneous electrical nerve stimulation and cognitive behavioral therapy.
Summary
More high-quality clinical trials and systematic reviews are needed in several drug classes to assess the potential for benefit and risk of harm with respect to perioperative multimodal analgesia.