28.08.2018 | Original Article | Ausgabe 1/2019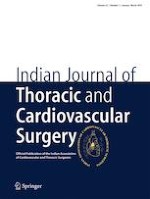 Perioperative myocardial infarction diagnosis after coronary artery bypass grafting surgery using coupled electrocardiographic changes and cardiac troponin I
Autoren:

Arvin Shahzamani, Erfan Sheikhbahaei, Shahab Shahabi, Mehran Shahzamani, Helia Hemasian, Niayesh Hadi, Sara Zamani
Wichtige Hinweise
Discussant:
Dr. Sumir Dubey
Senior Consultant Cardiothoracic SurgeonDharma Vira Heart Centre,Sir Ganga Ram Hospital, New Delhi
Q1) The incidence of new Q waves is very small, only 4 cases in 100 patients. The significant rise of cTnI with new Q waves cannot be deemed as conclusive relationship with statistical significance under the circumstances. Your take?
Ans: We investigated 100 CABG patients and saw some ECG changes and assessed the level of troponin as well. Troponin showed a high level of increase in patients who showed new a Q wave postoperatively. Yes, these numbers are low and further studies are needed to evaluate them, but our research can help as well. Other studies, too, validate our results. There is no other reason why these numbers should be high instead. Other ECG changes are important too and showed different troponin levels (Tables 2 and 3).
Q2) Were there patients with new Q waves in ECG and cTnI levels in the lower probability of PMI group or any values discordant to your conclusion?
Ans: No, we have explained it by our tables and in the Discussion section. Finally, all new Q waves are not PMI and all PMI do not have new Q wave changes. There is a high probability instead. Tables 2 and 3 are evidence of our responses.
Q3) Did any of the ST elevation, ST depression in the ECG evolve into a new Q wave in the subsequent postoperative period? Q waves may take variable time of up to 7 days to manifest. An additional ECG on the fifth or seventh day in the study design may probably better define the incidence of new Q waves.
Ans: No new Q wave is dominant, and if a new Q wave occurs, the patient is put in the new Q wave group.
Q4) Imaging methods like echocardiography, coronary angiography, and nuclear ventriculography would have provided a stronger evidence of perioperative MI. In the group with ECG changes, imaging may have provided a more credible evidence for relationship of perioperative MI with ECG changes and cTnI levels.
Ans: Imaging studies such as angiography, radioisotope scan, etc. are not routinely used in our clinic postoperatively for this purpose. Therefore, we used more available methods for evaluation of myocardial damage which is ECG and troponin level. Literature review lacks evidence on using these new methods postoperatively. We explain it in our limitation part.
Q5) It would be interesting to know the postoperative course in the ICU and hospital of different groups of patients in the study especially to understand the clinical relevance of the electrocardiographic changes and elevation of cardiac troponins.
Ans: Yes, it would be interesting. PMI increases ICU stay and days of hospitalization. Although our patients stayed for 10–14 days in the hospital, we did not study their course of illness. It can be a really good future research opportunity.
Abstract
Purpose
Perioperative myocardial infarction (PMI) is one of the most common causes of prolonged intensive care unit (ICU) and hospital stay after coronary artery bypass grafting (CABG) and is associated with poor prognosis and increases postoperative mortality due to the lack of accurate diagnostic methods. This study examines the association between electrocardiography (ECG) ischemic changes and cardiac troponin I concentration.
Methods
In this cross-sectional study, the ECG of 100 patients was recorded before and 24 h after the surgery. The cardiac troponin I concentration was measured 24 h after the termination of the surgery.
Results
The average concentration of troponin I was 6.79 μg/L in the no-ECG-changes group, 11.69 μg/L in the ST depression group, 11.26 μg/L in the ST elevation group, and 27.54 μg/L in the new Q wave group. The mean troponin concentration was significantly higher in the ECG-changes group compared to no-ECG-changes group. Comparing the ECG-changes together showed significant differences between the new Q wave and the other changes. ST elevation and ST depression were not statistically significant.
Conclusion
The three ECG-changes groups had a higher risk of PMI after their CABG. The risk of PMI was at its highest value in the new Q wave group and at its lowest in the no-ECG-changes group.