29.05.2017 | Original Article | Ausgabe 10/2017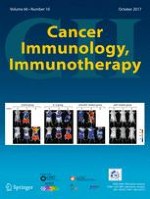 Peripheral blood T cell alterations in newly diagnosed diffuse large B cell lymphoma patients and their long-term dynamics upon rituximab-based chemoimmunotherapy
Zeitschrift:
Autoren:

Simone Battella, M. Christina Cox, Raffaella La Scaleia, Arianna Di Napoli, Francesca Di Landro, Alessandra Porzia, Lavinia Franchitti, Fabrizio Mainiero, Luigi Ruco, Bruno Monarca, Angela Santoni, Gabriella Palmieri
Wichtige Hinweise
Electronic supplementary material
The online version of this article (doi:
10.​1007/​s00262-017-2026-7
) contains supplementary material, which is available to authorized users.
Simone Battella and Maria Christina Cox contributed equally to this work.
Abstract
The importance of T cell-dependent immune responses in achieving long-term cure of chemoimmunotherapy-treated cancer patients is underscored by the recently described "vaccinal effect" exerted by therapeutic mAbs. In accordance, pre- and post-therapy peripheral blood lymphopenia represents a well-established negative prognostic factor in DLBCL. We analyzed the phenotypic and functional (IFNγ production, and Granzyme B (GrzB) cytotoxic granule marker expression) profile of peripheral blood T lymphocyte subsets ("conventional" CD4+ and CD8+, FOXP3+CD25bright Treg, and "innate-like" CD56+) in DLBCL patients at diagnosis, and assessed the long-term impact of R-CHOP chemoimmunotherapy, in a prospective study. At diagnosis, DLBCL patients showed lower lymphocyte counts, due to selective decrement of CD4+ T (including Treg) and B lymphocytes. While all T cell subsets transiently decreased during therapy, CD4+ T cell and Treg remained significantly lower than controls, up to 1 year after R-CHOP. Phenotypically skewed profile of CD4+ and CD8+ T cell subsets associated with higher frequencies of IFNγ+ and GrzB+ cells at diagnosis, that transiently decreased during therapy, and re-attained persistently elevated levels, till up to 1 year after therapy. Differently, the pre-therapy elevated levels of circulating monocytes, and of plasma IL-6 and IL-10 rapidly normalized upon R-CHOP. In sum, we describe a quantitatively and functionally altered status of the peripheral blood T cell compartment in DLBCL patients at diagnosis, that persists long-term after tumor eradication, and it is only transiently perturbed by R-CHOP chemoimmunotherapy. Moreover, data suggest the association of selected T cell functional features with DLBCL phenotype, and with therapy outcome.