20.01.2017 | Original Scientific Report | Ausgabe 6/2017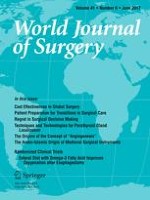 Peritherapeutic Serum p53 Antibody Titers are Predictors of Survival in Patients with Esophageal Squamous Cell Carcinoma Undergoing Neoadjuvant Chemotherapy and Surgery
Zeitschrift:
Autoren:

Kotaro Yamashita, Tomoki Makino, Koji Tanaka, Makoto Yamasaki, Masaaki Yamamoto, Yasuhiro Miyazaki, Tsuyoshi Takahashi, Yukinori Kurokawa, Kiyokazu Nakajima, Shuji Takiguchi, Masaki Mori, Yuichiro Doki
Wichtige Hinweise
Electronic supplementary material
The online version of this article (doi:
10.​1007/​s00268-017-3894-x
) contains supplementary material, which is available to authorized users.
Abstract
Background
Although the preoperative serum level of p53 antibodies (s-p53-Abs) is reported to be a prognostic factor in esophageal squamous cell carcinoma (ESCC) patients, the clinical significance of post-therapeutic s-p53-Abs or the peritherapeutic changes in s-p53-Abs associated with the prognosis or treatment response of ESCC patients undergoing surgery following preoperative chemotherapy remains unclear.
Methods
s-p53-Abs titers were peritherapeutically measured in 136 ESCC patients who underwent surgery following preoperative chemotherapy in our department from 2008 to 2014. Clinicopathological parameters, including the response to chemotherapy and the recurrence-free survival (RFS), were compared between groups classified by the levels of the s-p53-Ab titers and the peritherapeutic changes in the s-p53-Ab titers.
Results
After curative surgery following preoperative chemotherapy, the s-p53-Ab titers increased in 15 patients (11.0%), remained unchanged in 81 patients (59.6%) and decreased in 40 patients (29.4%). The seropositive rate (cutoff value: 0.5 U/ml) of pre- and post-therapeutic s-p53-Abs were 36.0% (49/136) and 35.3% (48/136), respectively. Negative and positive seroconversion of s-p53-Abs was identified in 20.4% (10/49) and 10.3% (9/105) of patients, respectively. Both pre- and post-therapeutic seropositive s-p53-Ab titers significantly correlated with an unfavorable prognosis (
p
= 0.028, 0.002, respectively). Patients with a peritherapeutic increase in s-p53-Ab titers showed a shorter RFS compared with unchanged/decreased titers. Neither the s-p53-Ab titer at any time point nor its change was associated with the response to chemotherapy.
Conclusions
Both peritherapeutic s-p53-Ab titers and their changes were shown to be prognostic parameters in ESCC patients undergoing preoperative chemotherapy followed by surgery.