24.01.2019 | Original Article | Ausgabe 3/2019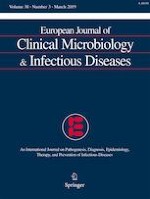 Persistent Candidemia in adults: underlying causes and clinical significance in the antifungal stewardship era
Autoren:

Caroline Agnelli, Maricela Valerio, Emilio Bouza, Antonio Vena, Jesús Guinea, María del Carmen Martínez-Jiménez, Laura Judith Marcos-Zambrano, Pilar Escribano, Patricia Muñoz, on behalf of the COMIC Study Group (Collaborative Group on Mycosis)
Wichtige Hinweise
Publisher's note
Springer Nature remains neutral with regard to jurisdictional claims in published maps and institutional affiliations.
Abstract
To investigate the causes and the clinical significance of persistent candidemia (PC) in adults diagnosed in a tertiary hospital with an active antifungal stewardship program. Retrospective cohort including all adults with candidemia from 2010 to 2018. PC was defined as any positive follow-up blood culture (BC) obtained ≥ 5 days from the first BCs yielding the same
Candida
species. PC was detected in 35/255 (13.7%) patients. There were no differences regarding antifungal adequacy in PC vs. non-PC (94.3% vs. 82.3%,
p
 = 0.084) and primary source control (63.3% vs. 76.4%,
p
 = 0.172) at the time of the follow-up BCs. The average time until source control (2 [0–37] vs. 2 days [0–44],
p
 = 0.311) or adequate antifungal treatment (2 [0–26] vs. 2 days [− 2–10],
p
 = 0.748) was similar. Patients with PC had more non-ocular complications (31.4% vs. 10.5%,
p
 = 0.002). No impact on 30-day mortality was observed (31.4% vs. 22.3%,
p
 = 0.238). The only independent factor associated with PC was to have a previously undetected site of infection [OR 4.28, 95%CI (1.77–10.34),
p
 = 0.001]. Persistent candidemia was not associated with inadequate or delayed therapeutic management, nor higher 30-day mortality rates. Timely screening and control of unexpected infection sources are encouraged to shorten hospitalization and improve patient care.