01.12.2017 | Research article | Ausgabe 1/2017 Open Access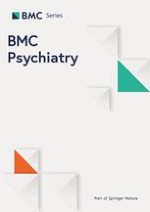 Personality traits and suicide attempts with and without psychiatric disorders: analysis of impulsivity and neuroticism
Zeitschrift:
Autoren:

Bo Bi, Wei Liu, Die Zhou, Xu Fu, Xiaoxia Qin, Jiali Wu
Abstract
Background
There is a critical need for empirical data concerning the association of personality traits and attempted suicide with and without psychiatric disorders in mainland China. The objective of the present study is to provide such data by determining the prevalence of psychiatric disorders and analyzing the levels of impulsivity and neuroticism among people who have attempted suicide, and to examine the association between these personality traits and suicide attempt in people with or without psychiatric disorders.
Methods
We administered self-reported tests and clinical interviews to 196 people who have attempted suicide who were admitted to a hospital emergency room or our psychiatric settings after a suicide attempt.
Results
One hundred and fifty-six subjects (79.6%) met the criteria for Axis I disorders and eleven (6.6%) met the criteria Axis II personality disorders. Those who have attempted suicide who did not have psychiatric disorders exhibited a greater degree of background characteristics (e.g., high lethality, more interpersonal conflicts and more alcohol use), lower levels of suicidality (suicide risk, depressive symptoms) and differences of personality traits (e.g., more impulsive and less neuroticism) as compared to those who do have psychiatric disorders. Profile differences existed even after control for the stressful life event.
Conclusion
Our findings suggest that some personality traits differ between people who have attempted suicide depending on whether or not they have psychiatric disorders. Based on these findings, investigating the impact of personality traits on suicidal behavior in therapeutic settings would provide critical data to improve patient treatment and outcomes.