20.02.2018 | Original Article | Ausgabe 4/2018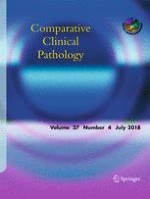 Perturbations of erythrocyte membrane integrity by subchronic low-level lead exposure in New Zealand white rabbits
Zeitschrift:
Autoren:

Victor M. Ahur, Silvanus M. Anika, Samuel C. Udem
Abstract
Lead (Pb) poisoning has been recognised as a clinical condition since ancient times. The anaemia frequently observed in Pb poisoning is thought to result from the shortening of erythrocytes, life span and inhibition of key enzymes of haem synthesis [viz. delta aminolevulinic acid dehydratase (ALAD), pyrimidine 5′-nucleotidase type 1 (P5N-1) and ferrochelatase]. However, the exact mechanism by which Pb shortens erythrocyte life span is still debatable. In the present study, the effect of ingested Pb on erythrocyte membrane sialic acid content and osmotic fragility of New Zealand White (NZW) rabbits was studied. Indices of Pb exposure, RBC counts, haemoglobin concentration (Hb), haematocrit (PCV), mean corpuscular volume (MCV), mean corpuscular haemoglobin (MCH) and mean corpuscular haemoglobin concentration (MCHC) of rabbits were investigated. Exposure to Pb significantly decreased (
p
 < 0.05) RBC counts, Hb levels, MCV and MCH. Similarly, exposure to Pb significantly decreased erythrocyte sialic acid content and increased the erythrocyte osmotic fragility of Pb-treated animals. It is speculated that decreases in membrane sialic acid content due to subchronic low-level Pb exposure shortens red cell life span as observed by increases in osmotic fragility.