11.10.2016 | Perspective | Ausgabe 1/2017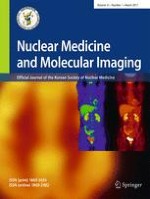 PET Imaging-Based Phenotyping as a Predictive Biomarker of Response to Tyrosine Kinase Inhibitor Therapy in Non-small Cell Lung Cancer: Are We There Yet?
Zeitschrift:
Autoren:

Victor H. Gerbaudo, Chun K. Kim
Abstract
The increased understanding of the molecular pathology of different malignancies, especially lung cancer, has directed investigational efforts to center on the identification of different molecular targets and on the development of targeted therapies against these targets. A good representative is the epidermal growth factor receptor (EGFR); a major driver of non-small cell lung cancer tumorigenesis. Today, tumor growth inhibition is possible after treating lung tumors expressing somatic mutations of the EGFR gene with tyrosine kinase inhibitors (TKI). This opened the doors to biomarker-directed precision or personalized treatments for lung cancer patients. The success of these targeted anticancer therapies depends in part on being able to identify biomarkers and their patho-molecular make-up in order to select patients that could respond to specific therapeutic agents. While the identification of reliable biomarkers is crucial to predict response to treatment before it begins, it is also essential to be able to monitor treatment early during therapy to avoid the toxicity and morbidity of futile treatment in non-responding patients. In this context, we share our perspective on the role of PET imaging-based phenotyping in the personalized care of lung cancer patients to non-invasively direct and monitor the treatment efficacy of TKIs in clinical practice.