01.12.2019 | Primary research | Ausgabe 1/2019 Open Access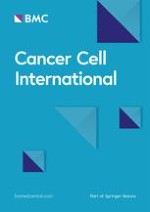 PGM5 is a promising biomarker and may predict the prognosis of colorectal cancer patients
Zeitschrift:
Autoren:

Yifan Sun, Haihua Long, Lin Sun, Xiujuan Sun, Liping Pang, Jianlin Chen, Qingqun Yi, Tianwei Liang, Yongqi Shen
Wichtige Hinweise
Yifan Sun, Haihua Long and Lin Sun contributed equally to this work, so they should be considered as co-first authors
Supplementary information
Publisher's Note
Springer Nature remains neutral with regard to jurisdictional claims in published maps and institutional affiliations.
Abstract
Background
Phosphoglucomutase (PGM), a key enzyme in the metabolism of glucose-1-phosphate and glucose-6-phosphate, has been found to be associated with proliferation, invasion, and metastasis of cancer. However, the expression and function of PGM5 in colorectal cancer (CRC) remains unknown.
Methods
We tested PGM5 mRNA and protein expression levels in 79 CRC tissue and their matched adjacent tissue samples by qRT-PCR and immunohistochemistry, respectively. Overall survival (OS) was estimated with the Kaplan–Meier method and compared between groups with the log-rank test. We performed multivariable Cox regression analyses to identify factors associated with CRC risk. The cell proliferation, migration and invasion abilities of CRC cells were detected by using CCK-8, Transwell migration and invasion assays, respectively.
Results
The PGM5 protein levels expression in CRC tissues were significantly lower than those in the adjacent tissues (t = 5.035,
P 
< 0.001), and Kaplan–Meier analysis indicated that low PGM5 expression were significantly associated with poor overall survival (
P 
= 0.0069). Univariate and multivariate analyses demonstrated that PGM5 was an independent risk factor for overall survival (hazard ratio = 0.3951,
P 
= 0.014). PGM5 overexpression significantly inhibited the proliferation, invasion and migration abilities of CRC cells. On the contrary, knockdown of PGM5 promotes the invasion and migration of CRC cells.
Conclusions
PMG5 regulates proliferation, invasion, and migration in the CRC and decreased PGM5 is associated with poor prognosis. Therefore, PGM5 is a promising biomarker in CRC and decreased PGM5 may predict poor overall survival in patients with CRC.