20.07.2020 | Research Article | Ausgabe 4/2020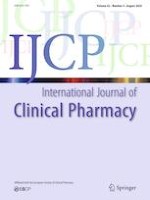 Pharmaceutical care in children, an exploratory study of parental experiences in Jordan
Zeitschrift:
Autoren:

Tareq L. Mukattash, Anan S. Jarab, Walaa H. Gharaibeh, Rana K. Abu-Farha, Mohammad B. Nusair, Rajaa Daghash
Wichtige Hinweise
Publisher's Note
Springer Nature remains neutral with regard to jurisdictional claims in published maps and institutional affiliations.
Abstract
Background
Pediatric pharmaceutical care is a new concept in the pharmacy profession. In Jordan, the knowledge of pediatric pharmaceutical care is limited, which may have negative consequences on pediatric pharmaceutical care and treatment efficacy and safety.
Objectives
The main objective of the present study is to assess parental needs for pediatric pharmaceutical care services and explore their current experiences of pharmaceutical services provided to their children.
Setting
Parental Facebook Groups in Jordan.
Methods
A descriptive, cross-sectional survey was designed and distributed online via Social Media networks, mainly Facebook. The validated survey contained 4 main sections addressing different themes related to pediatric pharmaceutical care services including: (1) parental perception of pediatric pharmaceutical care services. (2) Parental needs, wants, and expectations from the pharmacist when providing care to their children. (3) Parental awareness about pediatric pharmaceutical care, and parental satisfaction with current pediatric pharmaceutical care. Respondents who agreed to complete the survey signed and electronic informed consent form to access it.
Main outcome measure
The main outcomes measure was parental need for pediatric pharmaceutical care services.
Results
A total of 1104 respondents took part in the study. Of those 71% were female and 44% were 31–40 years old. The majority of respondents (78%) were not familiar with the pediatric pharmaceutical care term. The calculated overall mean perception score was 63.4%. The majority of respondents (89%) reported to need pediatric pharmaceutical care and the mean need score was 71.7%. Only 10.5% agreed/strongly agreed that their children were offered good pediatric pharmaceutical care services and respondents has a total mean satisfaction score of 65.7%.
Conclusion
The majority of the respondents reported that they need pharmaceutical care services for their children. Pharmacists in Jordan have to develop their role to incorporate pediatric pharmaceutical care services in their practice.