22.05.2019 | Original Reseach | Ausgabe 2/2020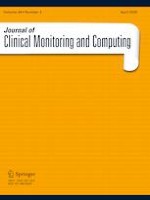 Pharmacodynamic modelling of the effect of remifentanil using the Pupillary Pain Index
Zeitschrift:
Autoren:

Sérgio Vide, Ana Castro, Pedro Antunes, Deolinda Lima, Merlin Larson, Pedro Gambús, Pedro Amorim
Wichtige Hinweise
Preliminary data was presented in the form of a poster entitled "Analgesic Interpatient Variability of Remifentanil Assessed Through Pupillary Dilation Reflex" in the 45th Society for Neuroscience in Anesthesiology and Critical Care Annual Meeting.
Publisher's Note
Springer Nature remains neutral with regard to jurisdictional claims in published maps and institutional affiliations.
Abstract
Using a targeted controlled infusion of remifentanil during total intravenous anesthesia, we investigated the effect-site concentrations of remifentanil that correlate with different values of the Pupillary Pain Index and which concentrations were necessary for achieving a Pupillary Pain Index ≤ 4 and its usefulness in titrating opioids. The Pupillary Pain Index was measured in 54 patients prior to surgery under different remifentanil effect-site concentrations and subsequently modeled. One hundred and twenty-eight measurements were taken at different remifentanil concentrations while titrating propofol for a similar depth of hypnosis using a BIS monitor. Our modeled Hill equation revealed a remifentanil of 2.96 ng/mL for a PPI of 4, and the probability model a Ce of 3.22 ng/mL for the probability of 50% of patients achieving a PPI score ≤ 4. For the probability of 80% of patients achieving a PPI score ≤ 4 the Ce of remifentanil was 4.39 ng/mL. We conclude that concentrations of remifentanil that have been shown to suppress movement in response to noxious stimulation correspond to a Pupillary Pain Index ≤ 4.