18.05.2017 | Original Article | Ausgabe 1/2017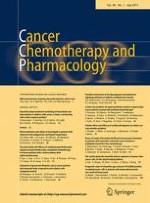 Pharmacokinetics and safety of vismodegib in patients with advanced solid malignancies and hepatic impairment
Zeitschrift:
Autoren:

Ghassan K. Abou-Alfa, Lionel D. Lewis, Patricia LoRusso, Michael Maitland, Priya Chandra, Sravanthi Cheeti, Dawn Colburn, Sarah Williams, Brian Simmons, Richard A. Graham
Wichtige Hinweise
Previously presented at the AACR 2015 Annual Meeting: Abou-Alfa GK, Lewis LD, LoRusso P, Maitlant M, Cheeti S, Colburn D, Williams S, Simmons B, Graham R, Chand P (2015) Pharmacokinetics and safety of vismodegib in patients with advanced solid malignancies and hepatic dysfunction [abstract].
Cancer Res
. 75(15 suppl):CT308.
Abstract
Purpose
Vismodegib is a Hedgehog pathway inhibitor approved for the treatment of advanced basal cell carcinoma. Currently, the pharmacokinetics (PK) and safety of vismodegib in patients with hepatic dysfunction are unknown and are the objective of this study.
Methods
Patients with advanced solid malignancies and hepatic impairment were enrolled into one of four cohorts: normal [bilirubin (bili) < upper limit of normal (ULN)], mild (ULN < bili ≤ 1.5 × ULN), moderate (1.5 × ULN < bili ≤ 3×ULN), and severe (3 × ULN < bili < 10 × ULN) dysfunction. Patients received oral vismodegib 150 mg daily. Plasma PK samples on days 1, 3, 5, and 8 were collected. Vismodegib therapy was continued until disease progression, intolerable toxicity, or withdrawal of consent.
Results
Thirty-one patients were accrued: nine normal, eight mild, eight moderate, and six severe. Four patients experienced dose-limiting toxicity of hyperbilirubinemia on study: one in the moderate cohort and three in the severe cohort. Six patients died within 30 days after the last dose of vismodegib. All deaths were attributed to disease progression. Observed maximal and average steady-state concentrations and AUC of vismodegib at steady state (day 8) were similar across cohorts. Average AAG concentrations in patients with hepatic impairment were comparable to those of patients with normal hepatic function.
Conclusions
Hepatic impairment does not appear to impact vismodegib PK, and therefore, dose adjustment is not necessary in this special population. The study was influenced by the high number of patients with hepatocellular carcinoma with advanced cirrhosis; rendering it difficult to draw any causal relationships between vismodegib exposure and the serious adverse events.