06.04.2018 | Original Research Article | Ausgabe 12/2018 Open Access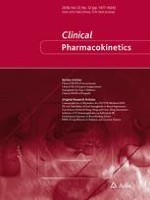 Pharmacokinetics, Safety and Tolerability of Oral Semaglutide in Subjects with Renal Impairment
Zeitschrift:
Autoren:

Charlotte Granhall, Flemming L. Søndergaard, Mette Thomsen, Thomas W. Anderson
Abstract
Background
Semaglutide, a glucagon-like peptide-1 (GLP-1) analogue, has been co-formulated with the absorption enhancer sodium
N
-(8-[2-hydroxybenzoyl] amino) caprylate (SNAC) as a tablet for oral administration. This trial (NCT02014259) investigated the pharmacokinetics, safety and tolerability of oral semaglutide in subjects with and without renal impairment.
Methods
Subjects were categorised as having normal renal function (
n 
= 24), mild (
n 
= 12), moderate (
n 
= 12) or severe (
n 
= 12) renal impairment, or end-stage renal disease (ESRD) requiring haemodialysis (
n 
= 11) and received once-daily oral semaglutide (5 mg for 5 days followed by 10 mg for 5 days) in the fasting state, followed by 30 min fasting after dosing. Semaglutide plasma concentrations were measured during dosing and for up to 21 days after the last dose.
Results
Semaglutide exposure (area under the plasma concentration–time curve from time zero to 24 h after the tenth dose and maximum concentration after the tenth dose) did not vary in a consistent pattern across the renal function groups. Similarly, there was no apparent effect of renal impairment on the semaglutide half-life (geometric mean range 152–165 h). Except for one subject in the ESRD group, semaglutide was not detected in urine. Haemodialysis did not affect the pharmacokinetics of semaglutide. Adverse events were in line with those observed for other GLP-1 receptor agonists and no safety concerns were identified.
Conclusion
There was no apparent effect of renal impairment or haemodialysis on the pharmacokinetics of oral semaglutide. Based on this trial, renal impairment should not affect dose recommendations for oral semaglutide.