01.12.2016 | Research | Ausgabe 1/2016 Open Access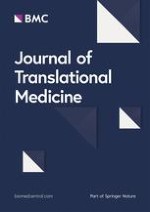 Pharmacologic rationale for the NK1R antagonist, aprepitant as adjunctive therapy in HIV
Zeitschrift:
Autoren:

Jeffrey S. Barrett, Sergei Spitsin, Ganesh Moorthy, Kyle Barrett, Kate Baker, Andrew Lackner, Florin Tulic, Angela Winters, Dwight L. Evans, Steven D. Douglas
Abstract
Background
Many HIV infected individuals with suppressed viral loads experience chronic immune activation frequently developing neurological impairment designated as HIV associated neurocognitive disorder (HAND). Adjunctive therapies may reduce HIV associated inflammation and therefore decrease the occurrence of HAND.
Methods
We have conducted in vitro, animal and clinical studies of the neurokinin 1 receptor (NK1R) antagonist aprepitant in HIV/SIV infection.
Results
Aprepitant inhibits HIV infection of human macrophages ex vivo with an ED50 ~ 5 µM. When administered at 125 mg once daily for 12 months to SIV-infected rhesus macaques, aprepitant reduced viral load by approximately tenfold and produced anti-anxiolytic effects. The anti-viral and anti-anxiolytic effects occur at approximately the third month of dosing; and the effects are sustained throughout the duration of drug administration. Protein binding experiments in culture media and animal and human plasma indicate that the free fraction of aprepitant is lower than previously reported supporting usage of higher doses in vivo. The analysis of blood samples from HIV positive individuals treated for 2 weeks with aprepitant at doses up to 375 mg demonstrated reduced levels of pro-inflammatory cytokines including G-CSF, IL-6, IL-8 and TNFα. Decreased pro-inflammatory cytokines may reduce HIV comorbidities associated with chronic inflammation.
Conclusions
Our results provide evidence for a unique combination of antiretroviral, anti-inflammatory and behavioral modulation properties of aprepitant in vitro and in vivo. These results provide robust support for a clinical exposure target above that recommended for chemotherapy-induced nausea and vomiting. Doses up to 375 mg once daily in HIV-infected patients still elicit sub-therapeutic exposure of aprepitant though effective plasma concentrations can be achievable by proper dose modulation.