Erschienen in: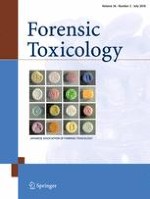 Open Access 26.04.2018 | Original Article
Pharmacological evaluation of new constituents of "Spice": synthetic cannabinoids based on indole, indazole, benzimidazole and carbazole scaffolds
Erschienen in: Forensic Toxicology | Ausgabe 2/2018
Abstract
Purpose
In the present study we characterized a series of synthetic cannabinoids containing various heterocyclic scaffolds that had been identified as constituents of "Spice", a preparation sold on the illicit drug market. All compounds were further investigated as potential ligands of the orphan receptors GPR18 and GPR55 that interact with some cannabinoids.
Methods
The compounds were studied in radioligand binding assays to determine their affinity for human cannabinoid CB1 and CB2 receptors expressed in CHO cells, and in cAMP accumulation assays to study their functionality.
Results
Structure-activity relationships were analyzed. The most potent CB
1
receptor agonist of the present series MDMB-FUBINACA (
12
) (
K
i
 = 98.5 pM) was docked into the human CB
1
receptor structure, and a plausible binding mode was identified showing high similarity with that of the co-crystallized THC derivatives. MDMB-CHMCZCA (
41
) displayed a unique profile acting as a full agonist at the CB
1
receptor subtype, but blocking the CB
2
receptor completely. Only a few weakly potent antagonists of GPR18 and GPR55 were identified, and thus all compounds showed high CB receptor selectivity, mostly interacting with both subtypes, CB
1
and CB
2
.
Conclusions
These results will be useful to assess the compounds' toxicological risks and to guide legislation. Further studies on
41
are warranted.
Electronic supplementary material
Introduction
Methods
Compounds
All compounds except for MDMB-CHMCZCA (
41
) were obtained from Cayman Chemical (Ann Arbor, MI, USA). According to the manufacturer, the purity of all compounds was declared to be > 95% as determined by liquid chromatography–tandem mass spectrometry (LC–MS/MS). MDMB-CHMCZCA (
41
) was purchased from
www.​brc-finechemicals.​com
. We confirmed the purity of all compounds in our laboratories by liquid chromatography–ultraviolet-mass spectrometry (LC–UV-MS) measurements and found it to be generally ≥ 96%, except for MDMB-FUBINACA (
12
, 93%) and Cl-2201 (
37
, 86%).
Radioligand binding assays
Radioligand binding assays were performed as described previously [
25
]. Membrane preparations of Chinese hamster ovary (CHO) cells overexpressing the human CB receptor subtype CB
1
or CB
2
were incubated in the presence of the test compound and the radioligand [
3
H]CP55,940 (0.1 nM, see Fig.
1
) (Perkin-Elmer Life Sciences, Rodgau-Jügesheim, Germany), for 2 h. Bound and unbound radioligand were separated by rapid filtration through glass fiber GF/C-filters (Perkin-Elmer, Boston, MA, USA), using a Brandel 96-well Harvester (Brandel, Gaithersburg, MD, USA). Radioactivity on the filters was determined by liquid scintillation counting. Three separate experiments were performed, each in duplicates.
cAMP accumulation assays
cAMP accumulation assays were performed also as previously described [
25
]. Briefly, CHO cells stably expressing the respective human CB receptor subtype CB
1
or CB
2
were seeded overnight. Then the phosphodiesterase inhibitor Ro-20-1724 [4-(3-butoxy-4-methoxyphenyl)methyl-2-imidazolidone; Sigma-Aldrich, St. Louis, MO, USA], and subsequently the test compound (10–1 µM) and forskolin (10 µM, Sigma-Aldrich) were added. After incubation for 15 min the buffer was removed, and the cells were lyzed. The amount of cAMP was determined in a radioligand binding assay by incubating 50 µL of the cell lysate with 3 nM [
3
H]cAMP in the presence of protein preparations from bovine adrenal glands (cAMP binding protein) [
30
]. Bound and unbound radioligand were separated by rapid filtration through GF/B filters, and radioactivity was determined by liquid scintillation counting. To test for antagonistic activity, test compounds were added to Hank's buffered salt solution (HBSS) containing 10% dimethyl sulfoxide (DMSO), 10 min after the application of Ro-20-1724, and the mixture was incubated for 20 min at 37 °C. Then, the CB agonist CP55,940 was added at a concentration of 0.03 µM, and cAMP determination was carried out as described above [
25
].
β-Arrestin assays
β-Arrestin assays were performed in recombinant CHO cells expressing either the human GPR18 or the human GPR55 as described before using the β-galactosidase enzyme fragment complementation technology (β-arrestin PathHunter™ assay; DiscoverX, Fremont, CA, USA) [
25
].
Data analysis
Data were analyzed using GraphPad Prism Version 4.02-6.1, (GraphPad Software, San Diego, CA, USA).
Molecular docking
Molecular docking studies were carried out with the software package Rosetta (
www.​RosettaCommons.​org
) using the 2017.08.59291 build [
31
,
32
]. As templates the X-ray structures 5XRA and 5XR8 were employed [
33
]; fusion proteins and ligands were deleted and a conformer of MDMB-FUBINACA (
12
) was manually positioned in an initial model using the PyMOL Molecular Graphics System, Version 1.7.4.5 (Schrödinger, Inc., New York, NY, USA). A conformer library of MDMB-FUBINACA (
12
) was calculated using the BCL Conformer:Generator [
34
]. Docking procedure and scripts for data processing are described in supplementary material. Docking scores were calculated using the Rosetta InterfaceAnalyzer. The best scoring models were clustered into a set of plausible binding poses. Results were compared to the pose of THC-like agonists in the template crystal structures 5XRA and 5XR8 and displayed using UCSF Chimera [
35
].
Results and discussion
Conclusions
In this study, we continued to investigate the SARs of illicitly used constituents of "Spice" preparations. We investigated the affinities of a large series of compounds in radioligand binding assays and found MDMB-FUBINACA (
12
) belonging to the class of 3-amidoindazoles to be an extremely potent fully efficacious agonist showing picomolar affinities for CB
1
(98.5 pM) and CB
2
(130 pM) receptors. For this compound class severe side effects had been reported, as for example the "zombie outbreak" that was related to AMB-FUBINACA [
50
], a structurally related compound. The extremely high potency of these compounds might be one of the reasons for their severe side effects. The SARs, especially regarding the R
2
residue, were consistent with the patterns observed in our previous study [
25
]. Lipophilic substituents had been introduced, e.g., a 5-fluoropentyl side chain, or a
p
-fluorobenzyl residue, which had similar properties as the pentyl side chain found in the JWH-compounds such as JWH-018. For MDMB-FUBINACA (
12
), we performed CB
1
receptor docking studies and observed a pose comparable to Δ
9
-THC-derived compounds. In addition to the well-described group of alkylindoles and indazoles, we investigated a series of carbazoles, which showed single-digit nanomolar affinity at both CB receptor subtypes. One of these compounds, MDMB-CHMCZCA (
41
), unexpectedly turned out to be a full agonist at the CB
1
, but an antagonist at CB
2
receptors, with
K
i
values at CB
1
of 5.75 nM and at CB
2
of 6.67 nM, and EC
50
values of 120 nM at CB
1
and of 807 nM at CB
2
receptors in cAMP accumulation assays. According to our knowledge, this combination of full CB
1
-agonistic and CB
2
-antagonistic activities is unique. Although CB
2
receptor antagonists and inverse agonists have been studied for some time, their clinical utility is still under investigation. The expression of CB
2
receptors in the immune system suggests immunomodulatory effects for CB
2
receptor ligands. The group of carbazoles showed nanomolar affinities for the CB
1
receptor and behaved as full agonists in cAMP accumulation assays. They circumvent the structural features described in the NpSG by scaffold hopping. This new class of synthetic cannabinoids needs to be further studied to fully investigate its SARs and potential for abuse. The present study may contribute to guiding future decisions on the restriction of carbazole-derived and related synthetic cannabinoids.
Acknowledgments
We thank Marion Schneider for performing LC–MS analyses. CTS was supported by a BAYER Ph.D. fellowship; CEM and CTS are grateful for support by the Deutsche Forschungsgemeinschaft (Research Training Group GRK1873). We thank Prof. Volker Auwärter and Verena Angerer from the Institute of Forensic Medicine in Freiburg, Germany, for providing MDMB-CHMCZCA (
41
).
Compliance of ethical standards
Conflict of interest
The authors declare that they have no conflict of interest.
Ethical approval
This article does not contain any studies with human participants or animals performed by any of the authors.
Open Access
This article is distributed under the terms of the Creative Commons Attribution 4.0 International License (
http://​creativecommons.​org/​licenses/​by/​4.​0/​
), which permits unrestricted use, distribution, and reproduction in any medium, provided you give appropriate credit to the original author(s) and the source, provide a link to the Creative Commons license, and indicate if changes were made.