01.12.2018 | Research | Ausgabe 1/2018 Open Access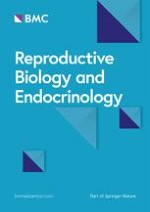 Pharmacological sympathetic denervation prevents the development of polycystic ovarian syndrome in rats injected with estradiol valerate
Zeitschrift:
Autoren:

Julieta A. Espinoza, Wendy Alvarado, Berenice Venegas, Roberto Domínguez, Leticia Morales-Ledesma
Abstract
Background
The injection of estradiol valerate in female rats induces polycystic ovary syndrome, which is characterized by polycystic ovaries, anovulation, and hyperandrogenism. These characteristics have been associated with an increase in the ovarian concentration of norepinephrine, which occurs before establishing the polycystic ovary syndrome. The bilateral section of the superior ovarian nerve restores ovarian functions in animals with polycystic ovary syndrome. The superior ovarian nerve provides norepinephrine and vasoactive intestinal peptide to the ovary. An increase in the activity of both neurotransmitters has been associated with the development of polycystic ovary syndrome. The purpose of the present study was analyzed the participation of the noradrenergic nervous system in the development of polycystic ovary syndrome using guanethidine as a pharmacological tool that destroys peripheral noradrenergic nerve fibers.
Methods
Fourteen-day old female rats of the CIIZ-V strain were injected with estradiol valerate or vehicle solution. Rats were randomly allotted to one of three guanethidine treatment groups for denervation: 1) guanethidine treatment at age 7 to 27-days, 2) guanethidine treatment at age 14 to 34- days, and 3) guanethidine treatment at age 70 to 90- days. All animals were sacrificed when presenting vaginal oestrus at age 90 to 94-days. The parameters analyzed were the number of ova shed by ovulating animals, the ovulation rate (i.e., the numbers of ovulating animals/the numbers of used animals), the serum concentration of progesterone, testosterone, oestradiol and the immunoreactivity for tyrosine hydroxylase enzyme. All data were analyzed statistically. A
p
-value of less than 0.05 was considered significant.
Results
Our results show that the elimination of noradrenergic fibers before the establishment of polycystic ovary syndrome prevents two characteristics of the syndrome, blocking of ovulation and hyperandrogenism. We also found that in animals that have already developed polycystic ovary syndrome, sympathetic denervation restores ovulatory capacity, but it was not as efficient in reducing hyperandrogenism.
Conclusion
The results of the present study suggest that the noradrenergic fibers play a stimulant role in the establishment of polycystic ovary syndrome.