01.12.2017 | Research | Ausgabe 1/2017 Open Access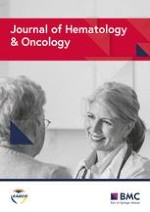 Pharmacological targeting of the ephrin receptor kinase signalling by GLPG1790 in vitro and in vivo reverts oncophenotype, induces myogenic differentiation and radiosensitizes embryonal rhabdomyosarcoma cells
Zeitschrift:
Autoren:

Francesca Megiorni, Giovanni Luca Gravina, Simona Camero, Simona Ceccarelli, Andrea Del Fattore, Vincenzo Desiderio, Federica Papaccio, Heather P. McDowell, Rajeev Shukla, Antonio Pizzuti, Filip Beirinckx, Philippe Pujuguet, Laurent Saniere, Ellen Van der Aar, Roberto Maggio, Francesca De Felice, Cinzia Marchese, Carlo Dominici, Vincenzo Tombolini, Claudio Festuccia, Francesco Marampon
Wichtige Hinweise
Francesca Megiorni and Giovanni Luca Gravina are co-first authors. Claudio Festuccia and Francesco Marampon are co-last authors.
Abstract
Background
EPH (erythropoietin-producing hepatocellular) receptors are clinically relevant targets in several malignancies. This report describes the effects of GLPG1790, a new potent pan-EPH inhibitor, in human embryonal rhabdomyosarcoma (ERMS) cell lines.
Methods
EPH-A2 and Ephrin-A1 mRNA expression was quantified by real-time PCR in 14 ERMS tumour samples and in normal skeletal muscle (NSM). GLPG1790 effects were tested in RD and TE671 cell lines, two in vitro models of ERMS, by performing flow cytometry analysis, Western blotting and immunofluorescence experiments. RNA interfering experiments were performed to assess the role of specific EPH receptors. Radiations were delivered using an x-6 MV photon linear accelerator. GLPG1790 (30 mg/kg) in vivo activity alone or in combination with irradiation (2 Gy) was determined in murine xenografts.
Results
Our study showed, for the first time, a significant upregulation of EPH-A2 receptor and Ephrin-A1 ligand in ERMS primary biopsies in comparison to NSM. GLPG1790 in vitro induced G1-growth arrest as demonstrated by Rb, Cyclin A and Cyclin B1 decrease, as well as by p21 and p27 increment. GLPG1790 reduced migratory capacity and clonogenic potential of ERMS cells, prevented rhabdosphere formation and downregulated CD133, CXCR4 and Nanog stem cell markers. Drug treatment committed ERMS cells towards skeletal muscle differentiation by inducing a myogenic-like phenotype and increasing MYOD1, Myogenin and MyHC levels. Furthermore, GLPG1790 significantly radiosensitized ERMS cells by impairing the DNA double-strand break repair pathway. Silencing of both EPH-A2 and EPH-B2, two receptors preferentially targeted by GLPG1790, closely matched the effects of the EPH pharmacological inhibition. GLPG1790 and radiation combined treatments reduced tumour mass by 83% in mouse TE671 xenografts.
Conclusions
Taken together, our data suggest that altered EPH signalling plays a key role in ERMS development and that its pharmacological inhibition might represent a potential therapeutic strategy to impair stemness and to rescue myogenic program in ERMS cells.