25.03.2019 | Pharyngitis und Tonsillitis im Kindesalter | FORTBILDUNG . ÜBERSICHT | Sonderheft 1/2019
Vorgehen bei Halsschmerzen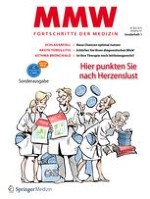 Die Tonsillitis im Kindes- und Erwachsenenalter
Zeitschrift:
Autoren:

Prof. Dr. med. Klaus Stelter, Prof. Dr. med. Marc Dellian
Wichtige Hinweise
This article is part of a supplement not sponsored by the industry.
Interessenkonflikt
Die Autoren erklären, dass sie sich bei der Erstellung des Beitrages von keinen wirtschaftlichen Interessen leiten ließen. Sie legen folgende potenzielle Interessenkonflikte offen: keine
Der Verlag erklärt, dass die inhaltliche Qualität des Beitrags von zwei unabhängigen Gutachtern geprüft wurde. Werbung in dieser Zeitschriftenausgabe hat keinen Bezug zur CME-Fortbildung. Der Verlag garantiert, dass die CME-Fortbildung sowie die CME-Fragen frei sind von werblichen Aussagen und keinerlei Produktempfehlungen enthalten. Dies gilt insbesondere für Präparate, die zur Therapie des dargestellten Krankheitsbildes geeignet sind.
Zusammenfassung
Akute entzündliche Halsschmerzen gehören zu den häufigsten Beratungsanlässen beim Haus- oder HNO-Arzt. Der Patient ersehnt sich ein heilendes Antibiotikum, doch über 80% der Infektionen sind viral bedingt. Somit bedarf es einer gezielten ärztlichen Analyse, um die passende Therapie einzuleiten. Diese Übersicht zeigt den aktuellen Stand, welche Untersuchungen und Medikamente bei einer Tonsillitis sinnvoll sind und wann eventuell sogar an eine Operation gedacht werden kann.