01.12.2017 | Research article | Ausgabe 1/2017 Open Access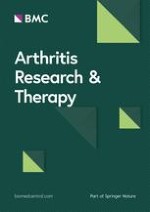 Phase 1b randomized, double-blind study of namilumab, an anti-granulocyte macrophage colony-stimulating factor monoclonal antibody, in mild-to-moderate rheumatoid arthritis
Zeitschrift:
Autoren:

T. W. J. Huizinga, A. Batalov, R. Stoilov, E. Lloyd, T. Wagner, D. Saurigny, B. Souberbielle, E. Esfandiari
Wichtige Hinweise
Electronic supplementary material
The online version of this article (doi:
10.​1186/​s13075-017-1267-3
) contains supplementary material, which is available to authorized users.
Abstract
Background
Namilumab (AMG203) is an immunoglobulin G1 monoclonal antibody that binds with high affinity to the GM-CSF ligand. This was a phase 1b, randomized, double-blind study (PRIORA) to assess namilumab in active, mild-to-moderate rheumatoid arthritis (RA). The primary outcome was the safety and tolerability of repeated subcutaneous injections of namilumab in patients with mild-to-moderate RA.
Methods
Adults with mild-to-moderate RA on stable methotrexate doses for ≥12 weeks were eligible. Patients received three subcutaneous injections of namilumab 150 or 300 mg, or placebo on days 1, 15, and 29, with 12 weeks' follow-up. Primary objective was safety/tolerability.
Results
Patients in cohort 1 were randomized to namilumab 150 mg (
n
 = 8) or placebo (
n
 = 5). In cohort 2, patients were randomized to namilumab 300 mg (
n
 = 7) or placebo (
n
 = 4). Incidence of treatment-emergent adverse events (TEAEs) was similar across the three groups (namilumab 150 mg: 63%; namilumab 300 mg: 57%; placebo: 56%). TEAEs in ≥10% of patients were nasopharyngitis (17%) and exacerbation/worsening of RA (13%). No anti-namilumab antibodies were detected. The pharmacokinetics of namilumab were linear and typical of a monoclonal antibody with subcutaneous administration. In a post hoc efficacy, per protocol analysis (
n
 = 21), patients randomized to namilumab showed greater improvement in Disease Activity Score 28 (erythrocyte sedimentation rate and C-reactive protein [CRP]), swelling joint counts and tender joint counts compared with placebo. Difference in mean DAS28-CRP changes from baseline between namilumab and placebo favored namilumab at both doses and at all time points. In addition area under the curve for DAS28-CRP was analyzed as time-adjusted mean change from baseline. A significant improvement in DAS28-CRP was shown with namilumab (150 and 300 mg groups combined) compared with placebo at day 43 (
p
 = 0.0117) and also 8 weeks after last dosing at day 99 (
p
 = 0.0154).
Conclusions
Subcutaneous namilumab was generally well tolerated. Although namilumab demonstrated preliminary evidence of efficacy, patient numbers were small; phase 2 studies are ongoing.
Trial registration
ClinicalTrials.gov,
NCT01317797
. Registered 18 February 2011.