01.12.2014 | PHASE I STUDIES | Ausgabe 6/2014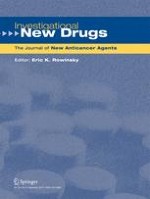 Phase I dose-escalation study of SGN-75 in patients with CD70-positive relapsed/refractory non-Hodgkin lymphoma or metastatic renal cell carcinoma
Zeitschrift:
Autoren:

Nizar M. Tannir, Andres Forero-Torres, Radhakrishnan Ramchandren, Sumanta K. Pal, Stephen M. Ansell, Jeffrey R. Infante, Sven de Vos, Paul A. Hamlin, Stella K. Kim, Nancy C. Whiting, Elaina M. Gartner, Baiteng Zhao, John A. Thompson
Wichtige Hinweise
Electronic supplementary material
The online version of this article (doi:
10.​1007/​s10637-014-0151-0
) contains supplementary material, which is available to authorized users.
Note
Data were presented in part as a poster at the American Society of Clinical Oncology, Genitourinary Cancers Symposium, February 2013, Orlando, FL.
Summary
Purpose
This first-in-human study evaluated the CD70-targeted antibody-drug conjugate SGN-75 in patients with relapsed or refractory CD70-positive non-Hodgkin lymphoma (NHL) or metastatic renal cell carcinoma (RCC).
Methods
SGN-75 was administered intravenously to 58 patients (39 RCC, 19 NHL) every 3 weeks (Q3Wk; doses escalated from 0.3 to 4.5 mg/kg) or on Days 1, 8, and 15 of 28-day cycles (weekly; doses of 0.3 or 0.6 mg/kg). Dose-limiting toxicities were evaluated during Cycle 1; treatment response was monitored every 2 cycles.
Results
The maximum tolerated dose of SGN-75 in RCC patients was 3 mg/kg Q3Wk. Due to toxicity concerns (idiopathic thrombocytopenic purpura in 2 NHL patients treated weekly), dose escalation in the weekly schedule was terminated; no regimen was recommended for NHL patients. The most common adverse events reported in patients treated Q3Wk (
N
 = 47) were fatigue (40 %), dry eye (32 %), nausea (30 %), and thrombocytopenia (26 %). The nadir for thrombocytopenia typically occurred during Cycle 1. Ocular adverse events (e.g., corneal epitheliopathy, dry eye) were reported for 57 % of patients treated Q3Wk and were generally reversible. Antitumor activity in patients treated Q3Wk included 1 complete response, 2 partial responses, and 20 stable disease. SGN-75 exposures were approximately dose proportional, with a mean terminal half-life of 10 days. Substantial depletions of CD70-positive peripheral blood lymphocytes were observed after SGN-75 treatment.
Conclusions
Modest single-agent activity and generally manageable adverse events were observed in heavily pretreated RCC and NHL patients. Administration Q3Wk was better tolerated than weekly dosing. Targeted ablation of CD70-positive lymphocytes was demonstrated.