01.02.2013 | PHASE I STUDIES | Ausgabe 1/2013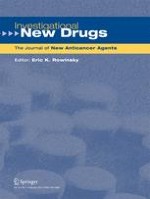 Phase I dose-escalation study to examine the safety and tolerability of LY2603618, a checkpoint 1 kinase inhibitor, administered 1 day after pemetrexed 500 mg/m2 every 21 days in patients with cancer
Zeitschrift:
Autoren:

Glen J. Weiss, Ross C. Donehower, Tara Iyengar, Ramesh K. Ramanathan, Karen Lewandowski, Eric Westin, Karla Hurt, Scott M. Hynes, Stephen P. Anthony, Scott McKane
Wichtige Hinweise
The results of this study have been reported at the 22nd EORTC-NCI-AACR symposium on "Molecular Targets and Cancer Therapeutics"; Berlin, Germany; November 16–19, 2010.
Summary
Purpose
This phase I study aims at assessing the safety and tolerability of LY2603618, a selective inhibitor of Checkpoint Kinase 1, in combination with pemetrexed and determining the maximum tolerable dose and the pharmacokinetic parameters.
Experimental design
This was an open-label, multicenter, dose-escalation study in patients with advanced solid tumors. Increasing doses of LY2603618 (40–195 mg/m
2
) were combined with 500 mg/m
2
of pemetrexed. LY2603618 was administered on Days 1 and 9 and pemetrexed on Day 8 in a 28-day cycle. For all subsequent 21-day cycles, pemetrexed was administered on Day 1 and LY2603618 on Day 2. Antitumor activity was evaluated as per Response Evaluation Criteria in Solid Tumors 1.0.
Results
A total of 31 patients were enrolled into six cohorts (three at 40 mg/m
2
over 4.5-hour infusion, 1-hour infusion in subsequent cohorts: three each at 40 mg/m
2
, 70 mg/m
2
, and 195 mg/m
2
; 13 at 105 mg/m
2
; six at 150 mg/m
2
). Four patients experienced a dose-limiting toxicity: diarrhea (105 mg/m
2
); reversible infusion-related reaction (150 mg/m
2
); thrombocytopenia (195 mg/m
2
); and fatigue (195 mg/m
2
). The maximum tolerated dose was defined as 150 mg/m
2
. The pharmacokinetic data demonstrated that the exposure of LY2603618 increased in a dose-dependent manner, displayed a suitable half-life for maintaining required human exposures while minimizing the intra- and inter-cycle accumulation, and was unaffected by the pemetrexed administration. The pharmacokinetic-defined biologically efficacious dose was achieved at doses ≥105 mg/m
2
.
Conclusion
LY2603618 administered approximately 24 h after pemetrexed showed acceptable safety and pharmacokinetic profiles.