01.06.2014 | Clinical Trial Report | Ausgabe 6/2014 Open Access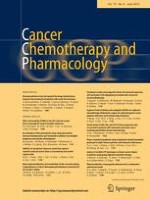 Phase I study of adjuvant chemotherapy with gemcitabine plus cisplatin in patients with biliary tract cancer undergoing curative resection without major hepatectomy (KHBO1004)
Zeitschrift:
Autoren:

Masanori Toyoda, Tetsuo Ajiki, Yutaka Fujiwara, Hiroaki Nagano, Shogo Kobayashi, Daisuke Sakai, Etsuro Hatano, Masashi Kanai, Shoji Nakamori, Atsushi Miyamoto, Akihito Tsuji, Satoshi Kaihara, Hisashi Ikoma, Shigekazu Takemura, Hideyoshi Toyokawa, Hiroaki Terajima, Satoshi Morita, Tatsuya Ioka
Wichtige Hinweise
Presented at the Gastrointestinal Cancer Symposium; January 16–18, 2014; San Francisco, CA.
Abstract
Purpose
We conducted a phase I study to determine the maximum tolerated dose and recommended dose (RD) of this gemcitabine plus cisplatin (GC) combination in the adjuvant setting for biliary tract cancer (BTC). GC has become a standard chemotherapy regimen for patients with locally advanced or metastatic BTC; however, the benefit of adjuvant therapy for BTC is unclear.
Methods
Patients with BTC were eligible if they met the following criteria: Stage IB or higher; and undergoing resection without major hepatectomy. The starting dose matched the standard dose of gemcitabine (1,000 mg/m2) and cisplatin (25 mg/m2) on days 1 and 8, every 3 weeks for up to 24 weeks. The dose limiting toxicities (DLTs) were determined during the first 6 weeks, and a 3+3 dose finding design with cohorts of 3–6 patients was used. Further cohort expansion took place.
Results
One DLT, namely grade 4 neutropenia, was observed among six patients at the starting dosages. Then, we expanded the cohort with a total of eighteen patients to evaluate RD and no further DLTs were observed. During the entire study, the most common grade 3/4 adverse events were neutropenia (94 %) and leucopenia (56 %). Non-hematological toxicities were manageable.
Conclusions
We defined the standard dose of GC as the RD for adjuvant chemotherapy for BTC treated by curative resection without major hepatectomy. Further study is warranted to clarify the safety and efficacy of this regimen for all patients.