11.02.2019 | Original Research Article | Ausgabe 1/2019 Open Access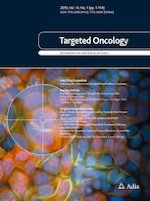 Phase I Study of BI 853520, an Inhibitor of Focal Adhesion Kinase, in Patients with Advanced or Metastatic Nonhematologic Malignancies
Zeitschrift:
Autoren:

Maja J. A. de Jonge, Neeltje Steeghs, Martijn P. Lolkema, Sebastien J. Hotte, Hal W. Hirte, Diane A. J. van der Biessen, Albiruni R. Abdul Razak, Filip Y. F. L. De Vos, Remy B. Verheijen, David Schnell, Linda C. Pronk, Monique Jansen, Lillian L. Siu
Wichtige Hinweise
Electronic supplementary material
Abstract
Background
Overexpression/activation of focal adhesion kinase (FAK) in human malignancies has led to its evaluation as a therapeutic target. We report the first-in-human phase I study of BI 853520, a novel, potent, highly selective FAK inhibitor.
Objective
Our objectives were to identify the maximum tolerated dose (MTD), and to evaluate safety, pharmacokinetics (PK), pharmacodynamics (PD), biomarker expression, and preliminary activity.
Patients and Methods
The study comprised a standard 3 + 3 dose-escalation phase followed by an expansion phase in patients with selected advanced, nonhematologic malignancies.
Results
Thirty-three patients received BI 853520 in the dose-escalation phase; the MTD was 200 mg once daily (QD). Dose-limiting toxicities included proteinuria and fatigue, both of which were grade 3. Preliminary PK data supported QD dosing. In the expansion cohort, 63 patients received BI 853520 200 mg QD. Drug-related adverse events (AEs) in > 10% of patients included proteinuria (57%), nausea (57%), fatigue (51%), diarrhea (48%), vomiting (40%), decreased appetite (19%), and peripheral edema (16%). Most AEs were grade 1–2; grade 3 proteinuria, reported in 13 patients (21%), was generally reversible upon treatment interruption. Nineteen patients underwent dose reduction due to AEs, and three drug-related serious AEs were reported, none of which were fatal. Preliminary PD analysis indicated target engagement. Of 63 patients, 49 were evaluable; 17 (27%) achieved a best response of stable disease (4 with 150 + days), and 32 (51%) patients had progressive disease.
Conclusions
BI 853520 has a manageable and acceptable safety profile, favorable PK, and modest antitumor activity at an MTD of 200 mg QD in patients with selected advanced nonhematologic malignancies.
ClinicalTrials.gov identifier
NCT01335269.