01.09.2009 | Original Article | Ausgabe 4/2009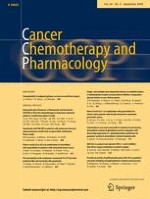 Phase I study of bryostatin 1, a protein kinase C modulator, preceding cisplatin in patients with refractory non-hematologic tumors
Zeitschrift:
Autoren:

Anna C. Pavlick, Jennifer Wu, John Roberts, Mark A. Rosenthal, Anne Hamilton, Scott Wadler, Kathleen Farrell, Michelle Carr, David Fry, Anthony J. Murgo, Ruth Oratz, Howard Hochster, Leonard Liebes, Franco Muggia
Wichtige Hinweise
The work was supported by U01 CA76642, P30 CA 16087 and GCRC MO1 RR00096.
Abstract
Purpose
Preclinical data suggested that bryostatin-1 (bryo) could potentiate the cytotoxicity of cisplatin when given prior to this drug. We designed a phase I study to achieve tolerable doses and schedules of bryo and cisplatin in combination and in this sequence.
Methods
Patients with non-hematologic malignancies received bryo followed by cisplatin in several schedules. Bryo was given as an 1 and a 24 h continuous infusion, while cisplatin was always given over 1 h at 50 and 75 mg/m2; the combined regimen was repeated on an every 3-week and later on an every 2-week schedule. Bryo doses were escalated until recommended phase II doses were defined for each schedule. Patients were evaluated with computerized tomography every 2 cycles.
Results
Fifty-three patients were entered. In an every 2-week schedule, the 1-h infusion of bryo became limited by myalgia that was clearly cumulative. With cisplatin 50 mg/m2 its recommended phase II dose was 30 μg/m2. In the 3-week schedule, dose-limiting toxicities were mostly related to cisplatin effects while myalgias were tolerable. Pharmacokinetics unfortunately proved to be unreliable due to bryo's erratic extraction. Consistent inhibition of PKC isoform eta (η) in peripheral blood mononuclear cells was observed following bryo.
Conclusions
Bryo can be safely administered with cisplatin with minimal toxicity; however, only four patients achieved an objective response. Modulation of cisplatin cytotoxicity by bryo awaits further insight into the molecular pathways involved.