20.05.2016 | Original Article | Ausgabe 8/2016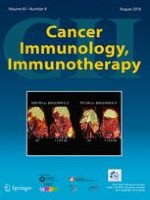 Phase I study to evaluate toxicity and feasibility of intratumoral injection of α-gal glycolipids in patients with advanced melanoma
Zeitschrift:
Autoren:

Mark R. Albertini, Erik A. Ranheim, Cindy L. Zuleger, Paul M. Sondel, Jacquelyn A. Hank, Alan Bridges, Michael A. Newton, Thomas McFarland, Jennifer Collins, Erin Clements, Mary Beth Henry, Heather B. Neuman, Sharon Weber, Giles Whalen, Uri Galili
Wichtige Hinweise
Electronic supplementary material
The online version of this article (doi:
10.​1007/​s00262-016-1846-1
) contains supplementary material, which is available to authorized users.
Components of this study were previously presented at the 2014 ASCO Annual meeting, and the abstract from that poster presentation was published (Albertini MR et al. (2014) J Clin Oncol 32 (5 Suppl): Abstr nr 3088).
Abstract
Effective uptake of tumor cell-derived antigens by antigen-presenting cells is achieved pre-clinically by in situ labeling of tumor with α-gal glycolipids that bind the naturally occurring anti-Gal antibody. We evaluated toxicity and feasibility of intratumoral injections of α-gal glycolipids as an autologous tumor antigen-targeted immunotherapy in melanoma patients (pts). Pts with unresectable metastatic melanoma, at least one cutaneous, subcutaneous, or palpable lymph node metastasis, and serum anti-Gal titer ≥1:50 were eligible for two intratumoral α-gal glycolipid injections given 4 weeks apart (cohort I: 0.1 mg/injection; cohort II: 1.0 mg/injection; cohort III: 10 mg/injection). Monitoring included blood for clinical, autoimmune, and immunological analyses and core tumor biopsies. Treatment outcome was determined 8 weeks after the first α-gal glycolipid injection. Nine pts received two intratumoral injections of α-gal glycolipids (3 pts/cohort). Injection-site toxicity was mild, and no systemic toxicity or autoimmunity could be attributed to the therapy. Two pts had stable disease by RECIST lasting 8 and 7 months. Tumor nodule biopsies revealed minimal to no change in inflammatory infiltrate between pre- and post-treatment biopsies except for 1 pt (cohort III) with a post-treatment inflammatory infiltrate. Two and four weeks post-injection, treated nodules in 5 of 9 pts exhibited tumor cell necrosis without neutrophilic or lymphocytic inflammatory response. Non-treated tumor nodules in 2 of 4 evaluable pts also showed necrosis. Repeated intratumoral injections of α-gal glycolipids are well tolerated, and tumor necrosis was seen in some tumor nodule biopsies after tumor injection with α-gal glycolipids.