01.12.2018 | Research article | Ausgabe 1/2018 Open Access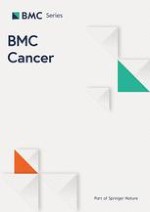 Phase II study of adjuvant chemotherapy with S1 plus oxaliplatin for Chinese patients with gastric cancer
Zeitschrift:
Autoren:

Guoxiu Wang, Jiuda Zhao, Yan Song, Wen Zhang, Yongkun Sun, Aiping Zhou, Jing Huang, Feng Du, Lin Yang
Abstract
Background
S-1 plus oxaliplatin(SOX) has been demonstrated to be effective and well tolerated for patients with metastatic gastric cancer. We conducted this phase II study to evaluate the feasibility of SOX as adjuvant chemotherapy for gastric cancer after curative resection.
Methods
Adjuvant chemotherapy consisted of six to eight cycles of S-1 plus oxaliplatin. Oxaliplatin was administered intravenously at a dose of 130 mg/m2 on day 1. S-1 was administered orally at a dose of 70 mg/m2 daily from day 1 to 14 of a 3-week cycle. A total of 58 patients were enrolled in this study. The primary end point of the trial was the treatment completion rate for six cycles. Secondary endpoints were safety, 1-year and 3-year of disease free survival (DFS) and overall survival (OS).
Results
A total of 58 patients were enrolled and 54 patients have been analysed. The completion rate of six cycles was 72.2%. Grade 4 toxicities included neutropenia (1.9%) and thrombocytopenia (3.7%). Grade 3 toxicities included leukopenia (5.6%), neutropenia (24.1%), thrombocytopenia (13.0%), nausea (7.4%), vomiting 13.0%), and diarrhea (13.0%). There was no grade 3 or higher peripheral sensory neuropathy and treatment-related death. The median follow-up time was 42.4 months. 1-year and 3-year DFS rate were 85.2 and 75.9%, respectively.1-year and 3-year OS were 98.1 and 85.2%, respectively.
Conclusion
Adjuvant chemotherapy for GC with S-1 plus oxaliplatin is safe and feasible in Chinese patients. The optimal dose of oxaliplatin and optimal cycles of treatment still need to be further investigated.
Trial registration
clinicaltrials.gov identifier
NCT01542294
. Trial registration date: 03/02/2012.