01.05.2010 | Original Article | Ausgabe 6/2010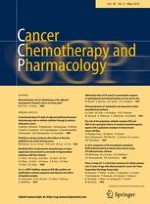 Phase II study of S-1 as first-line treatment for elderly patients over 75 years of age with advanced gastric cancer: the Tokyo Cooperative Oncology Group study
Zeitschrift:
Autoren:

Wasaburo Koizumi, Toshikazu Akiya, Atsushi Sato, Toshikazu Sakuyama, Eisaku Sasaki, Takashi Tomidokoro, Tsutomu Hamada, Mototsugu Fujimori, Yoshinori Kikuchi, Ken Shimada, Tetsuya Mine, Kensei Yamaguchi, Tsuneo Sasaki, Minoru Kurihara
Abstract
Purpose
This prospective multicenter phase II study was carried out to investigate the efficacy, safety and pharmacokinetics of S-1 monotherapy in elderly patients over 75 years of age, with unresectable advanced or recurrent gastric cancer.
Methods
Patients had measurable or evaluable lesions according to the Japanese Classification of Gastric Carcinoma. S-1 (25–60 mg determined by the body surface area and creatinine clearance) was given orally, twice daily. A course of treatment consisted of 4-week administration followed by a 2-week rest period, and the patients received repeated courses.
Results
Thirty-three patients were enrolled. Pharmacokinetics of S-1 was studied in six patients, and the maximum plasma concentrations of respective metabolites after S-1 administration were found to be similar to those reported for younger cancer patients. The overall response rate in 33 patients was 21.2% (95% CI, 10.7–37.8%), and median progression-free survival was 3.9 months, with a median overall survival of 15.7 months. Frequently noted adverse events include leukopenia, neutropenia, anemia, anorexia, and fatigue. As for serious adverse events, relatively higher frequencies of anemia (9%) and anorexia (12%) of grade 3 severity were found, but there were no grade 4 episodes.
Conclusions
The results suggest that S-1 monotherapy is safe and useful for elderly patients with unresectable advanced or recurrent gastric cancer when the dose is selected with caution, taking into account renal function.