01.12.2018 | Research | Ausgabe 1/2018 Open Access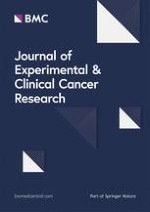 PHF8 upregulation contributes to autophagic degradation of E-cadherin, epithelial-mesenchymal transition and metastasis in hepatocellular carcinoma
Zeitschrift:
Autoren:

Wuhua Zhou, Li Gong, Qinchuan Wu, Chunyang Xing, Bajin Wei, Tianchi Chen, Yuan Zhou, Shengyong Yin, Bin Jiang, Haiyang Xie, Lin Zhou, Shusen Zheng
Wichtige Hinweise
Electronic supplementary material
Wuhua Zhou, Li Gong and Qinchuan Wu contributed equally to this work.
Abstract
Background
Plant homeodomain finger protein 8 (PHF8) serves an activator of epithelial-mesenchymal transition (EMT) and is implicated in various tumors. However, little is known about PHF8 roles in hepatocellular carcinoma (HCC) and regulating E-cadherin expression.
Methods
PHF8 expression pattern was investigated by informatic analysis and verified by RT-qPCR and immunochemistry in HCC tissues and cell lines. CCK8, xenograft tumor model, transwell assay, and tandem mCherry-GFP-LC3 fusion protein assay were utilized to assess the effects of PHF8 on proliferation, metastasis and autophagy of HCC cells in vitro and in vivo. ChIP, immunoblot analysis, rescue experiments and inhibitor treatment were used to clarify the mechanism by which PHF8 facilitated EMT, metastasis and autophagy.
Results
PHF8 upregulation was quite prevalent in HCC tissues and closely correlated with worse overall survival and disease-relapse free survival. Furthermore, PHF8-knockdown dramatically suppressed cell growth, migration, invasion and autophagy, and the expression of SNAI1, VIM, N-cadherin and FIP200, and increased E-cadherin level, while PHF8-overexpression led to the opposite results. Additionally, FIP200 augmentation reversed the inhibited effects of PHF8-siliencing on tumor migration, invasion and autophagy. Mechanistically, PHF8 was involved in transcriptionally regulating the expression of SNAI1, VIM and FIP200, rather than N-cadherin and E-cadherin. Noticeably, E-cadherin degradation could be accelerated by PHF8-mediated FIP200-dependent autophagy, a crucial pathway complementary to transcriptional repression of E-cadherin by SNAI1 activation.
Conclusion
These findings suggested that PHF8 played an oncogenic role in facilitating FIP200-dependent autophagic degradation of E-cadherin, EMT and metastasis in HCC. PHF8 might be a promising target for prevention, treatment and prognostic prediction of HCC.