01.03.2012 | Original Contribution | Ausgabe 2/2012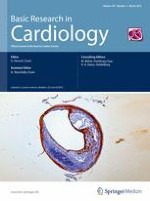 Phosphatase PTEN is critically involved in post-myocardial infarction remodeling through the Akt/interleukin-10 signaling pathway
Zeitschrift:
Autoren:

Nirmal Parajuli, Yuan Yuan, Xiaoxu Zheng, Djahida Bedja, Zheqing P. Cai
Wichtige Hinweise
Electronic supplementary material
The online version of this article (doi:
10.​1007/​s00395-012-0248-6
) contains supplementary material, which is available to authorized users.
Abstract
The inflammatory cytokines interleukin (IL)-10 and tumor necrosis factor (TNF)-
α
play an important role in left ventricular (LV) remodeling after myocardial infarction (MI). Phosphatase and tensin homolog deleted on chromosome ten (PTEN) inactivates protein kinase Akt and promotes cell death in the heart. However, it is not known whether PTEN promotes post-MI remodeling by regulating IL-10 and TNF-
α
. MI was induced in wild-type (WT) mice and
Pten
heterozygous mutant (HET) mice.
Pten
adenoviruses (
adPten
) or empty vectors (
adNull
) were injected into the peri-infarct area of WT mice. LV dilation was attenuated and fractional shortening was increased in HET mice compared to WT mice. Survival rate and fractional shortening were decreased in
adPten
mice compared to
adNull
mice. Leukocyte infiltration into the peri-infarct area was attenuated in HET mice and worsened in
adPten
mice. PTEN expression was upregulated in the infarcted heart of WT mice. Partial inactivation of PTEN increased the production of IL-10 and decreased the expression of TNF-
α
and matrix metalloproteinase (MMP)-2 and -9 after MI in HET mice. PTEN overexpression caused opposite effects in the infarcted heart. Moreover in the infarcted heart of HET mice, Akt inhibition decreased Stat3 phosphorylation and IL-10 expression, and blockade of the IL-10 receptor increased TNF-
α
and MMP-2 expression. Both Akt inhibition and IL-10 receptor blockade abolished the attenuation of post-MI remodeling in HET mice. In conclusion, PTEN is critically involved in post-MI remodeling through the Akt/IL-10 signaling pathway. Therefore, targeting PTEN may be an effective approach to post-MI remodeling.