28.07.2017 | Article | Ausgabe 10/2017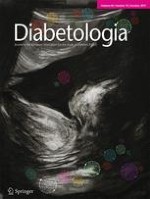 Photoreceptor cells produce inflammatory products that contribute to retinal vascular permeability in a mouse model of diabetes
Zeitschrift:
Autoren:

Deoye Tonade, Haitao Liu, Krzysztof Palczewski, Timothy S. Kern
Wichtige Hinweise
Electronic supplementary material
The online version of this article (doi:
10.​1007/​s00125-017-4381-5
) contains peer-reviewed but unedited supplementary material, which is available to authorised users.
Abstract
Aims/hypothesis
Recent studies suggest that photoreceptor cells produce mediators or products that contribute to retinal capillary damage in diabetes. The purpose of this study was to determine if photoreceptor cells release soluble factors that contribute to retinal vascular permeability in diabetes.
Methods
To assess retinal vascular leakage, a streptozotocin-induced mouse model of diabetes, with hyperglycaemia for 8 months, and age-matched control mice, were injected with FITC-BSA. Fluorescence microscopy was used to detect leakage of FITC-BSA from the retinal vasculature into the neural retina. Ex vivo and in vitro experiments were performed to determine if photoreceptor cells released products that directly increased retinal endothelial cell permeability or cell death. Effects of products released by photoreceptors on tight junction and cell adhesion proteins were assessed by quantitative reverse transcription PCR (qRT-PCR). Inflammatory products released by photoreceptors into media were measured using protein arrays.
Results
Eight months duration of diabetes increased retinal vascular permeability in wild-type mice, but this defect was inhibited in opsin-deficient diabetic mice in which photoreceptor cells had degenerated earlier. Photoreceptor cells from diabetic wild-type mice released inflammatory products (e.g. IL-1α, IL-1β, IL-6, IL-12, chemokine C-X-C motif ligand 1 [CXCL1], monocyte chemoattractant protein 1 [MCP-1], CXCL12a, I-309, chemokine ligand 25 [CCL25] and TNF-α), which directly contributed to increased retinal endothelial cell permeability, at least in part via changes in claudin (tight junction) mRNA. Products released from photoreceptor cells from diabetic mice or under diabetes-like conditions did not directly kill retinal endothelial cells in vitro.
Conclusions/interpretation
Photoreceptor cells can produce inflammatory products that contribute to retinal vascular permeability in mouse models of diabetes.