01.12.2017 | Research article | Ausgabe 1/2017 Open Access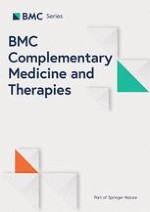 Phoyunnanin E inhibits migration of non-small cell lung cancer cells via suppression of epithelial-to-mesenchymal transition and integrin αv and integrin β3
Zeitschrift:
Autoren:

Nareerat Petpiroon, Boonchoo Sritularak, Pithi Chanvorachote
Abstract
Background
The conversion of the epithelial phenotype of cancer cells into cells with a mesenchymal phenotype-so-called epithelial–mesenchymal transition (EMT)-has been shown to enhance the capacity of the cells to disseminate throughout the body. EMT is therefore becoming a potential target for anti-cancer drug discovery. Here, we showed that phoyunnanin E, a compound isolated from
Dendrobium venustum,
possesses anti-migration activity and addressed its mechanism of action.
Methods
The cytotoxic and proliferative effects of phoyunnanin E on human non-small cell lung cancer-derived H460, H292, and A549 cells and human keratinocyte HaCaT cells were investigated by MTT assay. The effect of phoyunnanin E on EMT was evaluated by determining the colony formation and EMT markers. The migration and invasion of H460, H292, A549 and HaCaT cells was evaluated by wound healing assay and transwell invasion assay, respectively. EMT markers, integrins and migration-associated proteins were examined by western blot analysis.
Results
Phoyunnanin E at the concentrations of 5 and 10 μM, which are non-toxic to H460, H292, A549 and HaCaT cells showed good potential to inhibit the migratory activity of three types of human lung cancer cells. The anti-migration effect of phoyunnanin E was shown to relate to the suppressed EMT phenotypes, including growth in anchorage-independent condition, cell motility, and EMT-specific protein markers (N-cadherin, vimentin, slug, and snail). In addition to EMT suppression, we found that phoyunnanin E treatment with 5 and 10 μM could decrease the cellular level of integrin αv and integrin β3, these integrins are frequently up-regulated in highly metastatic tumor cells. We further characterized the regulatory proteins in cell migration and found that the cells treated with phoyunnanin E exhibited a significantly lower level of phosphorylated focal adhesion kinase (p-FAK) and phosphorylated ATP-dependent tyrosine kinase (p-AKT), and their downstream effectors (including Ras-related C3 botulinum (Rac-GTP); Cell division cycle 42 (Cdc42); and Ras homolog gene family, member A (Rho-GTP)) in comparison to those of the non-treated control.
Conclusions
We have determined for the first time that phoyunnanin E could inhibit the motility of lung cancer cells via the suppression of EMT and metastasis-related integrins. This new information could support further development of this compound for anti-metastasis approaches.