01.12.2017 | Research | Ausgabe 1/2017 Open Access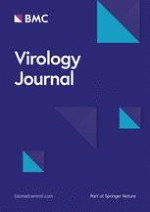 Phylogenetic, antigenic and biological characterization of pigeon paramyxovirus type 1 circulating in China
Zeitschrift:
Autoren:

Xusheng Qiu, Chunchun Meng, Yuan Zhan, Shengqing Yu, Shichao Li, Tingting Ren, Weifeng Yuan, Shuqin Xu, Yingjie Sun, Lei Tan, Cuiping Song, Ying Liao, Zhuang Ding, Xiufan Liu, Chan Ding
Wichtige Hinweise
Electronic supplementary material
Abstract
Background
For many years, ND has been one of the most important infectious pigeon diseases in China. In recent years, a high mortality has been observed in ND-infected pigeons in China. Mortality is from 40% to 80% or 100% in some cases.
Methods
The full-length genomes of four pigeon paramyxovirus type 1 (PPMV-1) strains, which were isolated from infected pigeons in China in 2012 and 2013, were sequenced and analyzed to determine the phylogenetic characteristics of PPMV-1 circulating in pigeons of China in recent years. Furthermore, cross hemagglutination inhibition and cross virus neutralization assays, as well as animal experiments were conducted to determine the antigenicity and pathogenicity of those viruses. Proteolytic cleavage sites (residues 112–117) of the F proteins were identified as the typical virulence motif, 112RRQKR↓F117 for all four PPMV-1 strains investigated.
Results
Phylogenetic analysis based on sequences of complete genomes and F gene revealed that the four PPMV-1 isolates and most of recent isolates in China were highly homologous to European isolates from 1998 to 2011. All those isolates were clustered in one clade of genotype VI NDV, termed as subgroup 4bii f. The
R
value was calculated based on cross hemagglutination inhibition and cross virus neutralization results, and confirmed antigenic difference of the PPMV-1 strains isolated in 2013 from the LaSota vaccine strain. Several mutations were identified in the surface glycoproteins F and HN, which probably gave rise to those antigenic differences.
Conclusion
Our result suggested that the PPMV-1 strain prevailing in China in the last decade diverged from a common ancestor and was presumably transmitted from Europe. PPMV-1 isolates displayed obvious antigenic differences from vaccine strain LaSota. Even though PPMV-1 did not cause high mortality in experimental pigeons, the infected pigeons were exhibiting viral shedding for 3 weeks after infection, suggesting PPMV-1 is a potential threat to NDV control worldwide.