01.12.2017 | Research | Ausgabe 1/2017 Open Access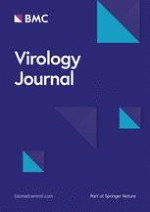 Phylogenetic, antigenic and biological characterization of pigeon paramyxovirus type 1 circulating in China
Zeitschrift:
Autoren:

Xusheng Qiu, Chunchun Meng, Yuan Zhan, Shengqing Yu, Shichao Li, Tingting Ren, Weifeng Yuan, Shuqin Xu, Yingjie Sun, Lei Tan, Cuiping Song, Ying Liao, Zhuang Ding, Xiufan Liu, Chan Ding
Wichtige Hinweise
Electronic supplementary material
Abbreviations
CAAS
Chinese Academy of Agricultural Science
EID50
50% embryo infectious dose
HI
Hemagglutination inhibition
HN
Hemagglutinin-neuraminidase
ICPI
Intracerebral pathogenicity index
PBS
Phosphate-buffered saline
PCR
Polymerase chain reaction
PPMV-1
Pigeon paramyxovirus type 1
Background
Methods
Results
Discussion
Four virulent PPMV-1 strains, ND132, ND163, ND167 and ND168, were isolated in Chinese pigeon farms; 70–80% of raised pigeons died from the outbreaks [
41
]. The genomes of the viruses were sequenced and subjected to phylogenetic analysis with sequences from 380 NDV strains isolated from China, Japan, the Middle East, Europe and North America. Based on analysis of six viral proteins, all four isolates were classified into subgenotype VIb and had high homology to most PPMV-1 strains isolated after 2000 from distinct provinces in China (Fig.
2
, Additional file
3
: Table S3 and Additional file
4
: Table S4). In a Chinese outbreak around 2000, subgenotype VIb, VIf and VIg [
19
] were all identified from pigeons, chickens and other fowls, whereas in the last decade, little VIf and VIg outbreaks have been reported [
21
]. Subgenotype VIb NDV is the most common in pigeons worldwide in the past two decades, and isolation of other subgenotypes, such as VIa, VId, VIf and VIg is rarely reported. Our four PPMV-1 isolates, ND132, ND163, ND167 and ND168, had high homology to each other but not to Chinese VIb isolates (representative strain YZ9712) from 10 years ago.
In this study, we used the Aldous method to further classify genotype VI genotype strains, which was based on 374 nucleotides in F protein of PPMV-1 isolated from Asia, Europe and America from 1978 to 2002 [
34
]. Based on this typing method, subgenotype VIb was divided into six clades: a, b, c, d, e and f. The first three were termed 4bi and the others 4bii. Two groups of VIb PPMV-1 were frequently isolated in China from 1998 until 2013. These groups are 4bii f clade and 4bii d clade. Isolates in clade d span three continents from 1983 to 2001. Isolates in this clade have been inferred to originate from two isolates in 1995, one from a budgerigar in Turkey, the other from a pigeon in Germany [
34
]. In this clade, Chinese, European and American isolates clustered on a separate branch from Middle Eastern isolates. Chinese PPMV-1 in this clade were isolated one or two decades ago, with the exception of pi/CH/SD2012, which was isolated in the Shandong province of China in 2012 [
37
]. These results suggested that viruses in the 4bii d clade were not widespread in China in recent decade.
Our four PPMV-1 isolates and most strains isolated from China in recent decade were highly homologous to Belgian isolates from 1998 to 2011, all of which clustered in 4bii f. This clade contained European and Middle Eastern viruses isolated from pigeons between 1998 and 2011. Based on the phylogenetic analysis and isolation date, 4bii d was the predominant clade in China 20 years ago. The clade 4bii f viruses began to emerge in the late 2000s, when the clade 4bii d viruses began to decline.
PPMV-1 isolates in 4bii f mainly diverged into three branches, termed Belgium/98-like, P4-like and Belgium/11-like in this study. All three branches originated from PPMV-1 strains such as PPMV-1/Belgium/98–231/1998, PPMV-1/Belgium/98–238/1998 and PPMV-1/Belgium/98–248/1998 isolated in Belgium around 1998. ND132, ND163, ND167 and ND168 were classified into different branches of 4bii f. ND132 clustered with P4 and W4 on a separate branch of the 4bii f clade. Both P4 and W4 were isolated from wild birds in Guangdong province, south of China; P4 was from a wild pigeon in 2003 and W4 from a white-breasted water hen in 2005. Molecular dating based on different genes suggests that these viruses diverged from a common ancestor around 1999 [
39
]. Viruses belonging to this branch were continually isolated in distinct provinces of China from 2003 until 2013, suggesting P4-like PPMV-1 has long been circulating throughout China.
The genomic sequences of three Shanghai NDV isolates, ND163, ND167 and ND168, showed the highest homology to PPMV-1/Belgium/11–08304/2011 (99.02%) [
42
]. The nucleotide and amino acid identities of six viral proteins were even higher, at 99.04–100%. All other isolates in this branch were isolated in China since 2011. This result suggested that the viruses diverged from a common ancestor around 2011 and presumably were transmitted from Europe. In summary, our four isolates represented two groups of PPMV-1 prevailing in China in recent years. The P4-like group emerged around 1998 and the Belgium/11-like group around 2011.
Our cross-HI and cross-VN results showed antigenicity differences between the commonly used vaccine LaSota and current PPMV-1 strains in China, especially ND167, which is in a clade of the Belgium/11-like group. The
R
values of NDV167 compared with LaSota were 0.287 in cross-HI assays and 0.208 in cross-VN assays, suggesting that PPMV-1 strains prevailing in China were antigenically changing. The specific amino acid substitutions in the F and HN proteins of NDV167 may have led to major antigenicity differences, such as M14 T, P28S, V179I, A203S, V506I in F protein and I59V, A66V, L74I, T232 N, S432H, A497T, D569E in HN protein. Recent Chinese and European isolates of PPMV-1 diverged from a common origin and kept changing, probably due to immune pressure of the live NDV vaccines such as LaSota. These mutations led to antigenic variation and will probably result in the inefficiency of the vaccine in the foreseeable future.
Phylogenetic analysis of the entire genome of four PPMV-1 isolates in this study showed that the viruses prevailing in China in recent years originated from Europe, and had high identity with Belgian isolates from 1998 to 2011. No virulence-related mutations were found in the six viral genes of the current Chinese isolates compared to the Belgian isolates. To determine the virulence of those viruses, we measured pathogenicity to pigeons of ND132 in the P4-like group and ND167 in the Belgium/11-like group.
All pigeons infected with ND132 and ND167 showed transient clinical signs but no mortality when pigeons were infected with PPMV-1 via oral administration, intramuscular injection, or intravenous injection. In contrast, the chicken-origin virulent NDV strain F48E8 caused 100% morbidity; three pigeons died and four survived. The genotype VIb PPMV-1 appeared to be less pathogenic to pigeons than the chicken-origin strain F48E8 did, which was consistent with the ICPI values. In previous studies, the pathogenicity of VIb to chickens was determined to be mesogenic [
37
,
38
]. Thus, the 4bii PPMV-1 strains used in this study displayed the same pathogenicity as reported for European isolates [
43
–
46
]; pigeons seemed to be resistant to those viruses. In other words, no definitive evidence confirmed a marked increase in the pathogenicity of recent Chinese isolates to pigeons. The high mortality clinically observed in China may not be caused simply by genetic variation of endemic strains; the influence of the pigeon lineage, co-infection with other pathogenic microorganisms, feeding environment, and even local climate need to be reconsidered.
A notable problem is viral shedding from infected pigeons. Our results showed that infected pigeons continued to shed, even at 3 weeks after infection, suggesting healthy pigeons could be PPMV-1 carriers. Based on epidemiological surveys, genotype VIb strains were identified from healthy-looking pigeons and doves. All isolates had a virulence motif of
112
RRQKRF
117
in the F protein [
3
,
47
]. The virulent isolates from symptomless pigeons from 2011 to 2013 in live poultry markets clustered in the 4bii f clade [
3
] and were highly homologous to our isolates. We propose that recent 4bii velogenic PPMV-1 isolates tended to develop a symbiotic relationship with pigeons so that infected pigeons showed no symptoms, became healthy carriers and shed occasionally. Previous studies showed that the same PPMV-1 strains were equally pathogenic to chickens and pigeons [
48
,
49
]. The disease in pigeons occurs because of spread from diseased chicken flocks and from domesticated or feral pigeons to poultry [
50
]. Pigeon-origin subtype VIb viruses are widely considered to be responsible for the third pandemic of the 1980s. As reported in this study, current PPMV-1 isolates are gradually changing and giving rise to antigenic differences from vaccine strain LaSota, suggesting that PPMV-1 will be an imminent threat to NDV control worldwide.
Conclusion
In this study, the full-length genomes of four virulent PPMV-1 strains, ND132, ND163, ND167 and ND168, were sequenced and subjected to phylogenetic analysis. Phylogenetic analysis revealed that the four PPMV-1 isolates were highly homologous to Belgian isolates from 1998 to 2011, as most of the recent isolates in China did, which suggested that the PPMV-1 strains prevailing in China in the last decade diverged from a common ancestor and was presumably transmitted from Europe. Several mutations were identified in the surface glycoproteins F and HN, which probably gave rise to antigenicity differences of PPMV-1 strains isolated in 2013 from LaSota vaccine strain. In this study, PPMV-1 did not cause high mortality in experimental pigeons, however, infected pigeons were exhibiting for viral shedding for3 weeks after infection, suggesting PPMV-1 is a potential threat to NDV control worldwide.
Funding
This work was funded by the National Key Research and Development Program of China (2016YFD0501603) and Chinese Special Fund for Agro-scientific Research in the Public Interest (201303033). None of the funding sources had any role in study design, interpretation of results, or decision to publish.
Ethics approval
This study was carried out in strict accordance with the recommendations in the Guide for the Care and Use of Laboratory Animals of Shanghai Veterinary Research Institute (SHVRI), the Chinese Academy of Agricultural Sciences (CAAS). The protocols were approved by the Institutional Animal Care and Use Committee (IACUC) of SHVRI, CAAS.
Consent for publication
All the authors consent to publish.
Competing interests
The authors declare that they have no competing interests.
Publisher's Note
Springer Nature remains neutral with regard to jurisdictional claims in published maps and institutional affiliations.
Open Access
This article is distributed under the terms of the Creative Commons Attribution 4.0 International License (
http://​creativecommons.​org/​licenses/​by/​4.​0/​
), which permits unrestricted use, distribution, and reproduction in any medium, provided you give appropriate credit to the original author(s) and the source, provide a link to the Creative Commons license, and indicate if changes were made. The Creative Commons Public Domain Dedication waiver (
http://​creativecommons.​org/​publicdomain/​zero/​1.​0/​
) applies to the data made available in this article, unless otherwise stated.