06.12.2018 | Case Report | Ausgabe 1/2019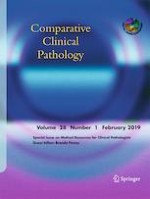 Phylogenetic evaluation of
Macrorhabdus ornithogaster

isolated from a case of canary (

Serinus canaria

)
Zeitschrift:
Autoren:

Bahman Abdi-Hachesoo, Hassan Sharifiyazdi, Mohamad Reza Haddad-Marandi, Mohsen Kalantari
Abstract
Two dead birds from a flock of domestic canaries (
Serinus canaria
) were referred with a history of anorexia, weight loss, abdominal distension, and occasional mortality. A slightly enlarged liver and proventriculus were seen on the examination of the abdominal cavity. A large number of yeast resembling
Macrorhabdus ornithogaster
were observed on gram staining of the proventriculus mucosa.
Pseudomonas aeruginosa
was isolated on the microbial culture of the liver. The complete genomic sequence of the internal transcribed spacer 1 (ITS1) was determined in
Macrorhabdus ornithogaster
using panfungal primers. The alignment of the sequence obtained from this study with 6 GenBank deposited ITS1sequences of
Macrorhabdus ornithogaster
showed some repeated nucleotide substitutions. The complete ITS1 sequence of our study (MF993119) displayed a whole genetic similarity to ITS1 sequences of
Macrorhabdus ornithogaster
isolated from canaries and finches and clustered into a different group from ITS1 sequences of
Macrorhabdus ornithogaster
isolated from pssitacines. The ITS1 region is proposed as taxonomically informative for
Macrorhabdus ornithogaster
isolates from different hosts.