13.06.2016 | Original Article | Ausgabe 2/2016 Open Access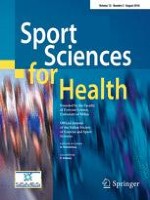 Physical activity, nutritional status, and dietary habits of students of a medical university
Zeitschrift:
Autoren:

Bogna Grygiel-Górniak, Andrzej Tomczak, Natalia Krulikowska, Juliusz Przysławski, Agnieszka Seraszek-Jaros, Elżbieta Kaczmarek
Abstract
Nutritional habits and physical activity influence the health status of young adults. In this study, we engaged a group of 151 students from a medical university (90 female and 61 male subjects). Anthropometric parameters, dietary habits (a 7-day dietary recall), and level of physical activity were measured. It was found that the daily food rations of female (F) and male (M) students were improperly balanced and characterized by high amount of total and animal protein, phosphorus, vitamin A, cholesterol, and insufficient intake of carbohydrates, dietary fiber, and vitamin C. Female subjects consumed low amounts of total fat and calcium. The intake of protein (total and animal), fat, phosphorus, and cholesterol correlated with higher body mass. The physical activity of the students was found to be higher than the average physical activity of the European Union populations, and a general tendency of lowering level of physical activity with age was observed. Students with the highest level of physical activity (MET > 1500) consumed lower amounts of simple carbohydrates (galactose and saccharose) when compared to students with lower physical activity (MET < 600,
p
< 0.05). Therefore, this study concluded that the dietary habits should be modified to prevent the development of diet-dependent diseases. Various forms of physical activity should be proposed to students and they should be encouraged to participate in high level of physical activity so as to promote good health status.