01.12.2017 | Study protocol | Ausgabe 1/2017 Open Access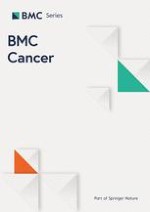 Physical ExeRcise Following Esophageal Cancer Treatment (PERFECT) study: design of a randomized controlled trial
Zeitschrift:
Autoren:

Jonna K. van Vulpen, Peter D. Siersema, Richard van Hillegersberg, Grard A. P. Nieuwenhuijzen, Ewout A. Kouwenhoven, Richard P. R. Groenendijk, Donald L. van der Peet, Eric J. Hazebroek, Camiel Rosman, Carlo C. G. Schippers, Elles Steenhagen, Petra H. M. Peeters, Anne M. May
Abstract
Background
Following esophagectomy, esophageal cancer patients experience a clinically relevant deterioration of health-related quality of life, both on the short- and long-term. With the currently growing number of esophageal cancer survivors, the burden of disease- and treatment-related complaints and symptoms becomes more relevant. This emphasizes the need for interventions aimed at improving quality of life. Beneficial effects of post-operative physical exercise have been reported in several cancer types, but so far comparable evidence in esophageal cancer patients is lacking. The aim of this study is to investigate effects of physical exercise on health-related quality of life in esophageal cancer patients following surgery.
Methods
The Physical ExeRcise Following Esophageal Cancer Treatment (PERFECT) study is a multicenter randomized controlled trial including 150 esophageal cancer patients after surgery with curative intent. Patients are randomly allocated to an exercise group or usual care group. The exercise group participates in a 12-week combined aerobic and resistance exercise program, supervised by a physiotherapist near the patient's home-address. In addition, participants in the exercise group are requested to be physically active for at least 30 min per day, every day of the week. Participants allocated to the usual care group are asked to maintain their habitual physical activity pattern. The primary outcome is health-related quality of life (EORTC-QLQ-C30). Secondary outcomes include esophageal cancer specific quality of life, fatigue, anxiety and depression, sleep quality, work-related factors, cardiorespiratory fitness (VO2peak), muscle strength, physical activity, malnutrition risk, anthropometry, blood markers, recurrence of disease and survival. All questionnaire outcomes, diaries and accelerometers are assessed at baseline, post-intervention (12 weeks post-baseline) and 24 weeks post-baseline. Physical fitness, anthropometry and blood markers are assessed at baseline and post-intervention. In addition, adherence and safety are monitored throughout the exercise program.
Discussion
This randomized controlled trial investigates effects of physical exercise versus usual care in esophageal cancer patients after surgery. As the design of the exercise program closely resembles daily practice, this study can contribute both to evidence on effects of exercise in esophageal cancer patients, and to potential implementation strategies.
Trial registration
Trial registration:Netherlands Trial Registry
NTR5045
Date of trial registration: January 19th, 2015
Date and version study protocol: February 2017, version 1