01.12.2018 | Research | Ausgabe 1/2018 Open Access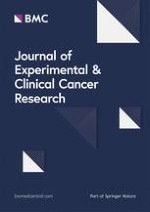 Physical interaction of STAT1 isoforms with TGF-β receptors leads to functional crosstalk between two signaling pathways in epithelial ovarian cancer
Zeitschrift:
Autoren:

Xiaoling Tian, Wencai Guan, Lingyun Zhang, Wenwen Sun, Daibing Zhou, Qunbo Lin, Weimin Ren, Lubna Nadeem, Guoxiong Xu
Wichtige Hinweise
Electronic supplementary material
Abstract
Background
The signal transducer and activator of transcription (STAT) and transforming growth factor-β (TGF-β) signaling pathways play important roles in epithelial ovarian cancer (EOC). However, the mechanism of crosstalk between two pathways is not completely understood.
Methods
The expression of STAT1 protein was detected by tissue microarray and immunoblotting (IB). The interaction of STAT1 isoforms with TGF-β receptors was confirmed by immunoprecipitation and IB. The effect of TGF-β signaling on STAT1 activation was examined in EOC and non-tumorous HOSEpiC cells treated with TGF-β1 in the presence or absence of the inhibitor of TGF-β type I receptor. The gain-of-function and loss-of-function approaches were applied for detecting the role of STAT1 on EOC cell behaviours.
Results
The high level of STAT1 was observed in patients with high-grade serous EOC. STAT1 expression was higher in ovarian cancer cells than noncancerous cells. TGF-β1 activated the STAT1 pathway by inducing the phosphorylation of STAT1α on S727 residue. The full-length STAT1α and the truncated STAT1β directly interacted with TGF-β receptors (ALK1/ALK5 and TβRII), which was mediated by TGF-β1. STAT1α and STAT1β blocked the activation of the TGF-β1 signaling pathway in EOC cells by reducing Smad2 phosphorylation. STAT1 overexpression induced EOC cell proliferation, migration, and invasion; whereas its inhibition enhanced TGF-β1-induced phospho-Smad2 and suppressed EOC cell proliferation, migration, and invasion.
Conclusions
Our data unveil a novel insight into the molecular mechanism of crosstalk between the STAT1 and TGF-β signaling pathways, which affected the cancer cell behavior. Suppression of STAT1 may be a potential therapeutic strategy for targeting ovarian cancer.