20.10.2018 | Brief Report | Ausgabe 2/2019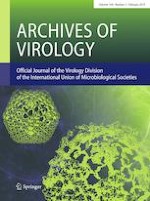 Phytophthora infestans RNA virus 2, a novel RNA virus from
Phytophthora infestans

, does not belong to any known virus group
Zeitschrift:
Autoren:

Guohong Cai, Kevin Myers, William E. Fry, Bradley I. Hillman
Wichtige Hinweise
Handling Editor: Robert H.A. Coutts.
Abstract
Phytophthora infestans
is the causal agent of potato and tomato late blight. In this study, we obtained the complete genome sequence of a novel RNA virus from this plant pathogen, tentatively named "Phytophthora infestans RNA virus 2" (PiRV-2). The PiRV-2 genome is 11,170 nt in length and lacks a polyA tail. It contains a single large open reading frame (ORF) with short 5' and 3' untranslated regions. The ORF is predicted to encode a polyprotein of 3710 aa (calculated molecular weight, 410.94 kDa). This virus lacks significant similarity to any other known viruses, even in the conserved RNA-dependent RNA polymerase region. Phylogenetic analysis demonstrated that it did not cluster with any known virus group. We conclude that PiRV-2 belongs to a new virus family yet to be described. This virus was found to be faithfully transmitted through asexual reproduction.