17.10.2016 | Original Article | Ausgabe 12/2016 Open Access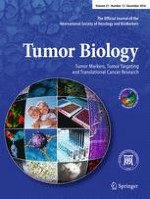 PI3K and MAPK pathways mediate the BDNF/TrkB-increased metastasis in neuroblastoma
Zeitschrift:
Autoren:

Zhongyan Hua, Xiao Gu, Yudi Dong, Fei Tan, Zhihui Liu, Carol J. Thiele, Zhijie Li
Wichtige Hinweise
Electronic supplementary material
The online version of this article (doi:
10.​1007/​s13277-016-5433-z
) contains supplementary material, which is available to authorized users.
Abstract
Brain-derived neurotrophic factor (BDNF) and its tyrosine kinase receptor TrkB have been reported to be associated with poor prognosis in neuroblastoma (NB) patients. Our previous studies indicated that BDNF activation of TrkB induces chemo-resistance through activation of phosphoinositide-3-kinase (PI3K)/Akt pathway. In this study, we investigated the role of BDNF/TrkB on metastasis in NB. A tetracycline-regulated TrkB-expressing NB cell line (TB3) was used. Scratch wound healing assay, Boyden chamber migration, and invasion assays were performed to study the migration and invasion of TB3 cells. A tumor xenograft model using SCID-Beige mice was utilized to detect the metastasis of NB tumors in vivo. Inhibitors of PI3K, MAPK, Akt, and mTOR were used. Western blotting was performed to study the expressions of P-Akt, P-Erk, and P-mTOR. Our results showed that in TrkB-expressing NB cells, BDNF treatment significantly increased gap closing (
P
< 0.01) in scratch wound healing assay, also significantly enhanced the numbers of migrating cells (
P
< 0.01) and invading cells (
P
< 0.01) in the Boyden chamber migration and invasion assays. In vivo, NB distant metastases were significantly increased in mice with TrkB-expressing xenograft tumors compared to those with non-TrkB-expressing tumors (
P
< 0.05). Pre-treatment with any of the inhibitors for PI3K (LY294002), MAPK (PD98059), Akt (perifosine), or mTOR (rapamycin) blocked the BDNF/TrkB-induced increases of cell migration and invasion in TB3 cells, and also blocked the BDNF/TrkB-induced expressions of P-Akt, P-Erk, and P-mTOR. These data indicated that BDNF/TrkB increased metastasis in NB via PI3K/Akt/mTOR and MAPK pathways, and BDNF/TrkB and the downstream targets may be potential targets for the treatment of NB metastasis.