01.12.2015 | Research article | Ausgabe 1/2015 Open Access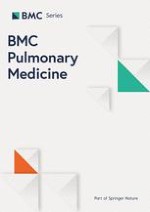 Pilot safety study of intrabronchial instillation of bone marrow-derived mononuclear cells in patients with silicosis
Zeitschrift:
Autoren:

Marcelo M. Morales, Sérgio A. L. Souza, Luiz Paulo Loivos, Marina A. Lima, Amir Szklo, Leandro Vairo, Taís H. K. Brunswick, Bianca Gutfilen, Miquéias Lopes-Pacheco, Alberto J. Araújo, Alexandre P. Cardoso, Regina C. Goldenberg, Patricia R. M. Rocco, Lea M. B. Fonseca, José R. Lapa e Silva
Wichtige Hinweise
Competing interests
The authors declare that they have no competing interests.
Authors' contributions
MMM conceived of the study, participated in its design, coordinated its conduction, and helped draft the manuscript. SALS carried out the imaging analysis. LPL, MAL, and AS participated in the evaluation of quality of life domains and in the instillation procedure. LV and THKB prepared BMMCs for instillation. BG assisted in imaging analysis. MLP helped draft the manuscript and assisted in statistical analysis. AJA and APA participated in the quality of life evaluation. RCG contributed to the study design. PRMR conceived of the study, participated in its design, and assisted in statistical analysis and manuscript drafting. LMBF conceived of the study and coordinated its conduction. JPLS conceived of the study, participated in its design and coordination, and helped draft the manuscript. All authors read and approved the final manuscript.
Abstract
Background
Silicosis is an occupational disease for which no effective treatment is currently known. Systemic administration of bone marrow-derived mononuclear cells (BMDMCs) has shown to be safe in lung diseases. However, so far, no studies have analyzed whether bronchoscopic instillation of autologous BMDMCs is a safe route of administration in patients with silicosis.
Methods
We conducted a prospective, non-randomized, single-center longitudinal study in five patients. Inclusion criteria were age 18–50 years, chronic and accelerated silicosis, forced expiratory volume in 1 s <60 % and >40 %, forced vital capacity ≥60 % and arterial oxygen saturation >90 %. The exclusion criteria were smoking, active tuberculosis, neoplasms, autoimmune disorders, heart, liver or renal diseases, or inability to undergo bronchoscopy. BMDMCs were administered through bronchoscopy (2 × 107 cells) into both lungs. Physical examination, laboratory evaluations, quality of life questionnaires, computed tomography of the chest, lung function tests, and perfusion scans were performed before the start of treatment and up to 360 days after BMDMC therapy. Additionally, whole-body and planar scans were evaluated 2 and 24 h after instillation.
Results
No adverse events were observed during and after BMDMC administration. Lung function, quality of life and radiologic features remained stable throughout follow-up. Furthermore, an early increase of perfusion in the base of both lungs was observed and sustained after BMDMC administration.
Conclusion
Administration of BMDMCs through bronchoscopy appears to be feasible and safe in accelerated and chronic silicosis. This pilot study provides a basis for prospective randomized trials to assess the efficacy of this treatment approach.
Clinical trials.gov identifier