01.12.2017 | Regular article | Ausgabe 1/2017 Open Access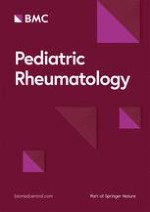 Pilot study comparing the Childhood Arthritis & Rheumatology Research Alliance (CARRA) systemic Juvenile Idiopathic Arthritis Consensus Treatment Plans
Zeitschrift:
Autoren:

Yukiko Kimura, Sriharsha Grevich, Timothy Beukelman, Esi Morgan, Peter A. Nigrovic, Kelly Mieszkalski, T Brent Graham, Maria Ibarra, Norman Ilowite, Marisa Klein-Gitelman, Karen Onel, Sampath Prahalad, Marilynn Punaro, Sarah Ringold, Dana Toib, Heather Van Mater, Jennifer E. Weiss, Pamela F. Weiss, Laura E. Schanberg, for the CARRA Registry Investigators
Wichtige Hinweise
Electronic supplementary material
The online version of this article (doi:
10.​1186/​s12969-017-0157-1
) contains supplementary material, which is available to authorized users.
Background
Systemic Juvenile Idiopathic Arthritis (JIA) is a rare childhood inflammatory disease associated with significant morbidity, and characterized by arthritis accompanied by high spiking fevers, plus additional features such as rash, generalized lymphadenopathy, hepatosplenomegaly, and serositis [
1
]. There is considerable variation in systemic JIA treatment, due in part to a heterogeneous and somewhat unpredictable disease course, differences in physician practices, and until very recently, a lack of clinical trial data [
2
–
5
] and evidence based guidelines [
6
,
7
]. Recent trials of IL-1 and IL-6 inhibitors (IL1i and IL6i) which demonstrated striking efficacy in systemic JIA were conducted in children with established chronic disease, so little evidence exists for use of biologic agents in new-onset or untreated systemic JIA. Nevertheless, many pediatric rheumatologists currently treat with IL1i and/or IL6i early in the course of disease [
8
–
10
]. Intriguing data from several uncontrolled case series suggest that early use of these biologic agents might favorably alter the potentially devastating outcomes of chronic persistent systemic JIA [
10
,
11
]. On the other hand, as many as 10–40% of patients may have a monocyclic course which remits spontaneously within the first year [
12
,
13
], complicating the evaluation of treatment effectiveness in early disease. An additional consideration is the question of whether rare, potentially fatal cardiopulmonary complications may be associated with the increased use of these agents specifically in systemic JIA [
14
].
With new options for treatment now commercially available and FDA approved, there is an urgent need to determine the relative effectiveness, safety and tolerability of commonly used treatments in systemic JIA. While a blinded randomized multi-arm controlled clinical trial would be ideal, it would be cost-prohibitive, require a very large sample size and likely not be feasible to perform in such a rare disease of childhood. Comparative effectiveness research (CER) studies in an observational, routine care setting are therefore a more practical approach to examine which treatments are effective and most appropriate for an individual child [
15
,
16
]. In such a study, physician choice (together with patient/caregiver preferences) would be the primary determining factor for treatment selection. Such a study could be successful if there were equipoise between most common treatments and if the treatments and data collection were standardized and captured at predetermined intervals. The development of Consensus-derived standardized Treatment Plans (CTPs) for systemic JIA funded by a National Institute of Arthritis and Musculoskeletal and Skin Diseases (NIAMS) Challenge Grant (1RC1AR058605-01) to the Childhood Arthritis and Rheumatology Research Alliance (CARRA) was a key step in this process and in improving outcomes for patients with systemic JIA [
17
,
18
]. The methods by which the CARRA CTPs were developed using CARRA-wide surveys to identify the current most commonly used treatments for systemic JIA and the standardization process using consensus methodology are outlined in a previously published article [
17
].
A pilot study comparing the published CARRA systemic JIA CTPs was funded by an Arthritis Foundation Innovative Research Grant and conducted in a limited number of sites in order to test the acceptance and usability of these CTPs in preparation for a future large comparative effectiveness study that would utilize the broader CARRA Registry network. This pilot study was conducted to assess the feasibility of conducting a larger more definitive CER study and to identify possible issues that could arise in such a study [
19
].
Methods
Safety assessments included reporting of serious adverse events (SAEs), defined as an adverse event that results in death, is life-threatening, requires hospitalization or prolongation of a hospitalization, persistent or significant disability or in capacity, or a congenital anomaly or birth defect; and adverse events (AEs). AEs were graded using Common Terminology Criteria for Adverse Events (CTCAE v4.0). Grade 1 AE was asymptomatic or with mild symptoms and required either clinical or diagnostic observations or no intervention. Grade 2 AE was defined as moderate severity requiring minimal, local or noninvasive intervention. Grade 3 was a severe or medically significant event but not immediately life-threatening and either hospitalization or prolongation of hospitalization were required. Grade 4 AEs were defined as those with life-threatening consequences or requiring urgent intervention. The MedDRA dictionary was not used for safety reporting in this pilot study.
Differences in data collected from the CTPs were compared using chi square, Fisher's exact, and Wilcoxon rank sum tests.
Results
Five patients were taking GC prior to starting their respective CTP (median 12 days prior to baseline): of these patients, three patients started on IL6i, and one each started on IL1i and MTX. One patient started on the IL1i CTP was lost to follow-up after the baseline visit.
Owing to the reliance on data collection at regular office visits, there was variability in the designated 9 month visit dates with the median being 39.9 weeks after baseline (IQR: 37.3, 43.4, range 29.9–54.7 weeks) Three children did not have a 9 month visit (1 GC and 2 IL1i CTP patients); of these, 1 of the 2 IL1i treated patients and the GC treated patient were lost to follow-up.
Discussion
Conclusions
This pilot study of the four CARRA standardized CTPs for untreated mostly new-onset systemic JIA successfully demonstrated the feasibility of their implementation in a larger observational comparative effectiveness study using the CARRA Registry for data collection. FROST, the planned follow-on larger, longitudinal study will establish whether biologic medications started early in the disease course will result in better outcomes for children with new onset systemic JIA.
Acknowledgements
The authors wish to thank Thomas A. Phillips, M.A. (DCRI) for statistical assistance and Jane Winsor, B.A. (DCRI) for database programming. PAN was supported by the Fundación Bechara. We also acknowledge the following CARRA Registry site investigators and coordinators:
L. Abramson, E. Anderson, M. Andrew, N. Battle, M. Becker, H. Benham, T. Beukelman, J. Birmingham, P. Blier, A. Brown, H. Brunner, A. Cabrera, D. Canter, D. Carlton, B. Caruso, L. Ceracchio, E. Chalom, J. Chang, P. Charpentier, K. Clark, J. Dean, F. Dedeoglu, B. Feldman, P. Ferguson, M. Fox, K. Francis, M. Gervasini, D. Goldsmith, G. Gorton, B. Gottlieb, T. Graham, T. Griffin, H. Grosbein, S. Guppy, H. Haftel, D. Helfrich, G. Higgins, A. Hillard, J.R. Hollister, J. Hsu, A. Hudgins, C. Hung, A. Huttenlocher, N. Ilowite, A. Imlay, L. Imundo, C.J. Inman, J. Jaqith, R. Jerath, L. Jung, P. Kahn, A. Kapedani, D. Kingsbury, K. Klein, M. Klein-Gitelman, A. Kunkel, S. Lapidus, S. Layburn, T. Lehman, C. Lindsley, M. Macgregor-Hannah, M. Malloy, C. Mawhorter, D. McCurdy, K. Mims, N. Moorthy, D. Morus, E. Muscal, M. Natter, J. Olson, K. O'Neil, K. Onel, M. Orlando, J. Palmquist, M. Phillips, L. Ponder, S. Prahalad, M. Punaro, D. Puplava, S. Quinn, A. Quintero, C. Rabinovich, A. Reed, C. Reed, S. Ringold, M. Riordan, S. Roberson, A. Robinson, J. Rossette, D. Rothman, D. Russo, N. Ruth, K. Schikler, A. Sestak, B. Shaham, Y. Sherman, M. Simmons, N. Singer, S. Spalding, H. Stapp, R. Syed, E. Thomas, K. Torok, D. Trejo, J. Tress, W. Upton, R. Vehe, E. von Scheven, L. Walters, J.E. Weiss, P.F. Weiss, N. Welnick, A. White, J. Woo, J. Wootton, A. Yalcindag, C. Zapp, L. Zemel, and A. Zhu.
Funding
This work was completed with support from an Arthritis Foundation Innovative Research Grant. The National Institute of Arthritis and Musculoskeletal and Skin Disease at the National Institutes of Health (NIH 1RC1AR058605-01) supported the development of the consensus treatment plans. The CARRA Registry was supported by grants from the National Institute of Arthritis and Musculoskeletal and Skin Diseases, Friends of CARRA, the Arthritis Foundation, and the NIH (RC2AR058934).
Availability of data and materials
The datasets used and/or analyzed during the current study are available from the corresponding author on reasonable request, and after obtaining permission from the CARRA data and sample sharing committee.
Authors' contributions
YK, TB, EM, PAN, LES conceived and designed the study, analyzed and interpreted the data, and drafted the manuscript and revisions. SG made substantial contributions to the analysis and interpretation of data and helped to draft the manuscript and revisions. KM, TBG, MI, NI, MKG, KO, SP, MP, SR, DT, HVM, JEW, PFW: made substantial contributions to acquisition of data, and was involved in revising the manuscript critically for important intellectual content. All authors have given final approval of the version to be published and agreed to be accountable for all aspects of the work in ensuring that questions related to the accuracy of integrity of any part of the work are appropriately investigated and resolved.
Competing interests
○ Kimura—CARRA (salary support), SOBI (consulting), Novartis (consulting)
○ Beukelman—CARRA (salary support), Novartis (consulting), Genentech/Roche (consulting), UCB (consulting)
○ Ilowite—CARRA (salary support), Novartis (consulting), SOBI (consulting)
○ Prahalad—Novartis (advisory board), Medac Pharma (advisory board)
○ Punaro—SOBI (consultant)
○ Schanberg – CARRA, SOBI (consulting), UCB (DSMB), Sanofi (DSMB)
Consent for publication
Not applicable.
Ethics approval and consent to participate
The CARRA Registry general protocol and consent was approved by the Duke University IRB (#Pro00054616) and at all participating site IRBs.
Publisher's Note
Springer Nature remains neutral with regard to jurisdictional claims in published maps and institutional affiliations.
Open Access
This article is distributed under the terms of the Creative Commons Attribution 4.0 International License (
http://​creativecommons.​org/​licenses/​by/​4.​0/​
), which permits unrestricted use, distribution, and reproduction in any medium, provided you give appropriate credit to the original author(s) and the source, provide a link to the Creative Commons license, and indicate if changes were made. The Creative Commons Public Domain Dedication waiver (
http://​creativecommons.​org/​publicdomain/​zero/​1.​0/​
) applies to the data made available in this article, unless otherwise stated.