13.11.2020 | Original Research Paper | Ausgabe 1/2021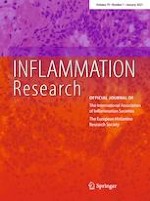 PIM1 inhibition attenuated endotoxin-induced acute lung injury through modulating ELK3/ICAM1 axis on pulmonary microvascular endothelial cells
Zeitschrift:
Autoren:

Yumeng Cao, Xia Chen, Yuqi Liu, Xingyi Zhang, Yun Zou, Jinbao Li
Wichtige Hinweise
Responsible Editor: John Di Battista.
Electronic supplementary material
Yumeng Cao and Xia Chen have contributed equally to this work.
Publisher's Note
Springer Nature remains neutral with regard to jurisdictional claims in published maps and institutional affiliations.
Abstract
Objective
The dysfunction of pulmonary microvascular endothelial cells (PMVECs) is one of the critical characteristics of acute lung injury/acute respiratory distress syndrome (ALI/ARDS) induced by severe infection. PIM1 is a constitutively active serine/threonine kinase that is involved in multiple biological processes. However, the underlying correlation between PIM1 and PMVECs injury remains unclear. The main purpose of this study was to reveal roles of PIM1 and explore the potential mechanisms during the development of endotoxin-induced ALI induced by intraperitoneal LPS administration.
Materials and methods
PIM1 level in the lung tissues of endotoxin-induced ALI mice or plasma derived from cardiopulmonary bypass (CPB)-induced ALI patients were measured. The protective roles of PIM1 specific inhibitor SMI-4a on endotoxin-induced lung injuries were evaluated through histological, permeability, neutrophil infiltration and survival assessment. The relationship between PIM1 and ELK3/ICAM-1 axis was validated in vivo and vitro. The correlation between plasma PIM1 and indicative vascular endothelium injury biomarkers (PaO2/FiO2 ratio, Ang-II, E-selectin and PAI-1) levels derived from CPB-induced ALI patient were analyzed.
Results
PIM1 expression in the lung tissues was increased in the mice of endotoxin-induced ALI. The PIM1 specific inhibitor SMI-4a administration relieved the severity of endotoxin-induced ALI. More importantly, PIM1 modulates ICAM1 expression through regulating transcription factor ELK3 expression in vitro. Eventually, plasma PIM1 level was positively correlated with Ang-II and PAI-1 levels but negatively correlated with SpO2/FiO2 ratio among CPB induced ALI patients.
Conclusion
Our results indicated that PIM1 inhibition carried a protective role against endotoxin-induced ALI by modulating the ELK3/ICAM1 axis on PMVECs. PIM1 may be a potential therapeutic target for endotoxin-induced ALI.