03.01.2021 | Original Article | Ausgabe 3/2021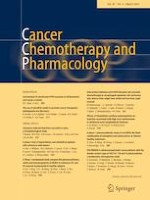 Pingyangmycin enhances the antitumor efficacy of anti-PD-1 therapy associated with tumor-infiltrating CD8+ T cell augmentation
Zeitschrift:
Autoren:

Chuan-Kun Shan, Yi-Bo Du, Xiao-Tian Zhai, Yue-Xuan Wang, Yi Li, Jian-Hua Gong, Zhi-Juan Ge, Xiu-Jun Liu, Yong-Su Zhen
Wichtige Hinweise
Supplementary Information
Publisher's Note
Springer Nature remains neutral with regard to jurisdictional claims in published maps and institutional affiliations.
Abstract
Purpose
To investigate the antitumor efficacy of pingyangmycin (PYM) in combination with anti-PD-1 antibody and determine the capability of PYM to induce immunogenic cell death (ICD) in cancer cells.
Methods
The murine 4T1 breast cancer and B16 melanoma models were used for evaluation of therapeutic efficacy of the combination of PYM with anti-PD-1 antibody. The ELISA kits were used to quantify the ICD related ATP and HMGB1 levels. The Transwell assay was conducted to determine the chemotaxis ability of THP-1 cell in vitro. The flow cytometry was used to measure reactive oxygen species level and analyze the ratio of immune cell subsets.
Results
PYM induced ICD in murine 4T1 breast cancer and B16 melanoma cells and increased the release of nucleic acid fragments that may further promote the monocytic chemotaxis. In the 4T1 murine breast cancer model, PYM alone, anti-PD-1 antibody alone, and their combination suppressed tumor growth by 66.3%, 16.1% and 77.6%, respectively. PYM markedly enhanced the therapeutic efficacy of anti-PD-1 antibody against 4T1 breast cancer. The calculated CDI (coefficient of drug interaction) indicated synergistic effect. Evaluated by graphic analysis, the nucleated cells intensity in the femur bone marrow remained unchanged. Histopathological observations revealed no noticeable toxico-pathological changes in the lung and various organs, indicating that the PYM and anti-PD-1 antibody combination exerted enhanced efficacy at well-tolerated dosage level. By the combination treatment, a panel of immunological changes emerged. The ratio of CD3+ cells, NK cells and NKT cells increased and Tregs decreased in peripheral blood. The DCs increased in the spleen. Prominent changes occurred in tumor infiltrating lymphocytes. The ratio of CD8+ cells increased, while that of CD4+ cells decreased; however, the ratio of CD3+ cells remained unchanged, implying that certain immunological responses emerged in the tumor microenvironment. PYM alone could also increase CD8+ cells and reduce CD4+ cells in tumor infiltrating lymphocytes.
Conclusions
The studies indicate that PYM, as an ICD inducer with mild myelosuppression effect, may enhance the therapeutic efficacy of anti-PD-1 antibody in association with tumor infiltrating CD8+ T cell augmentation.