30.04.2018 | Original Article | Ausgabe 6/2018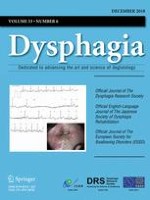 Pink1

−/− Rats Show Early-Onset Swallowing Deficits and Correlative Brainstem Pathology
Zeitschrift:
Autoren:

Kaylee P. Cullen, Laura M. Grant, Cynthia A. Kelm-Nelson, Alexander F. L. Brauer, Luke B. Bickelhaupt, John A. Russell, Michelle R. Ciucci
Abstract
Parkinson disease (PD) compromises oropharyngeal swallowing, which negatively affects quality of life and contributes to aspiration pneumonia. Dysphagia often begins early in the disease process, and does not improve with standard therapies. As a result, swallowing deficits are undertreated in the PD population. The
Pink1
−/− rat is used to model PD, and demonstrates widespread brainstem neuropathology in combination with early-onset sensorimotor dysfunction; however, to date, swallowing behaviors have not been evaluated. To test the hypothesis that
Pink1
−/− rats demonstrate early-onset differences in swallowing, we analyzed within-subject oropharyngeal swallowing using videofluoroscopy.
Pink1
−/− and wildtype (WT) controls at 4 (
Pink1
−/−
n
 = 16, WT = 16) and 8 (
Pink1
−/−
n
 = 12, WT = 12) months of age were tested. The average and maximum bolus size was significantly increased in
Pink1
−/− rats at both 4 and 8 months. Bolus average velocity was increased at 8 months for all animals; yet,
Pink1
−/− animals had significantly increased velocities compared to WT at 8 months. The data show a significant reduction in mastication rate for
Pink1
−/− rats at 8 months suggesting the onset of oromotor dysfunction begins at this time point. Relationships among swallowing variables and neuropathological findings, such as increased alpha-synuclein protein in the nucleus ambiguus and reductions in noradrenergic cells in the locus coeruleus in the
Pink1
−/− rats, were determined. The presence of early oropharyngeal swallowing deficits and relationships to brainstem pathology in
Pink1
−/− rat models of PD indicate that this may be a useful model of early swallowing deficits and their mechanisms. These findings suggest clinical implications for early detection and management of dysphagia in PD.