13.03.2018 | Original Research | Ausgabe 2/2018 Open Access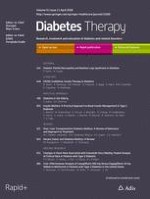 Pioglitazone Improved Insulin Sensitivity and First Phase Insulin Secretion Among Obese and Lean People with Diabetes: A Multicenter Clamp Study
Zeitschrift:
Autoren:

Xin Qian, Hui Wang, Gangyi Yang, Zhengnan Gao, Yong Luo, Aimei Dong, Fang Zhang, Mingtong Xu, Shiping Liu, Xin Yang, Yanyan Chen, Guangwei Li
Abstract
Introduction
To investigate the effects of pioglitazone (PIO) on insulin resistance and first phase insulin secretion among obese and lean Chinese people with type 2 diabetes mellitus (T2DM).
Methods
Sixty-eight drug-naïve patients with T2DM were treated with PIO for 16 weeks. Before and after the treatment, insulin sensitivity was evaluated by the euglycemic hyperinsulinemic clamp test. Plasma insulin levels at 0, 3, 5, 7, and 10 min during intravenous glucose tolerance test were determined to calculate the first phase insulin secretion and pancreatic β-cell function. Circulating adiponectin levels were quantified.
Results
In both the lean and the obese patients with T2DM, the reduction of HbA
1c
following the PIO treatment was more than 1% (
P 
< 0.001) and glucose infusion rate, acute insulin response, glucose disposal index, and β-cell glucose sensitivity increased significantly (
P 
< 0.001). A multiple linear regression analysis showed that the improvements of first phase insulin secretion and insulin sensitivity were independently associated with the changes of HbA
1c
, but the change of first phase insulin secretion exhibited a higher correlation coefficient (
R
2
 = 0.20,
P 
= 0.001) than the change of insulin sensitivity did (
R
2
 = 0.07,
P 
= 0.040). The PIO treatment led to a significant increase in adiponectin levels only in the obese group (
P 
< 0.05).
Conclusion
A 16-week treatment of PIO significantly increased insulin sensitivity and β-cell function in the lean group as well as in the obese group among Chinese T2DM patients, demonstrating that both lean and obese diabetic adults would profit from PIO.
Trial registration
The ChiCTR registry number is ChiCTR-OPC-17011571.
Funding
Takeda Pharmaceutical Co. Ltd. and Pfizer Pharmaceutical Co. Ltd.