01.12.2017 | Case report | Ausgabe 1/2017 Open Access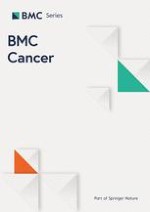 Pirfenidone as salvage treatment for refractory bleomycin-induced lung injury: a case report of seminoma
Zeitschrift:
Autoren:

Koji Sakamoto, Satoru Ito, Naozumi Hashimoto, Yoshinori Hasegawa
Wichtige Hinweise
Electronic supplementary material
The online version of this article (doi:
10.​1186/​s12885-017-3521-0
) contains supplementary material, which is available to authorized users.
Abbreviations
BILI
Bleomycin-induced lung injury
TGF
Transforming growth factor
Background
Bleomycin is an indispensable antineoplastic agent for the treatment of germ cell tumors and lymphomas. Despite its potent antitumor effect, bleomycin-induced lung injury (BILI) complicates treatment of 7–20% of patients, which often limits its use [
1
,
2
]. Systemic use of corticosteroids is the only standardized therapy for treating BILI. Thus, establishment of an alternative therapy is warranted for cases that have refractory lung injury or cases intolerant of the complications of corticosteroids. Recently, pirfenidone, a novel active small molecule with broad anti-inflammatory and anti-fibrotic potency, has been approved for treatment of idiopathic pulmonary fibrosis [
3
]. Its potent therapeutic effects on BILI had been observed in the drug development stage using rodent models [
4
,
5
], suggesting its possible application for treatment of BILI in humans. Here we describe a patient with BILI who was successfully improved by pirfenidone after a relapse with systemic corticosteroid treatment.
Case presentation
A 63-year-old man was referred to Nagoya University Hospital for treatment of a recurrence of resected seminoma. Twelve months prior to his presentation, the patient had undergone high orchiectomy for stage I seminoma (T2N0M0) at a local hospital. Recurrence of the disease was identified by swelling of the left external medial iliac node. After evaluation, he was administered two cycles of chemotherapy with the standard PEB regimen (cisplatin 50 mg/m 2 on day 1, etoposide 120 mg/m 2 on days 1 to 3, and bleomycin 30 mg on days 1, 8, and 15). On day 17 of the second cycle, the patient developed fever and malaise. His chest CT scan revealed bilateral ground-glass opacities. On the basis of his clinical picture, BILI was highly suspected. Bleomycin was discontinued, and oral prednisone (30 mg per day) was initiated and improved his symptoms and chest X-ray abnormality immediately. After the completion of two additional courses of chemotherapy without bleomycin, he underwent lymph node dissection. Complete remission was confirmed by pathological examination of the dissected lymph nodes.
He had suffered from a gradual increase in exertional dyspnea and dry cough since the discharge after the second surgery. For evaluation of his respiratory symptoms, he was admitted to our department. On admission, his physical examination findings were unremarkable except for fine crackles at his bilateral lung bases. The high-resolution CT (HRCT) findings (Fig.
1a
) revealed bilateral ground-glass and reticulonodular opacities that had deteriorated compared to the previous study. The pulmonary function test gas was remarkable for marked deterioration of diffusing capacity (Table
1
).
Table 1
Pulmonary function tests and serum markers
Before corticosteroid pulse therapy

2 months post corticosteroid pulse therapy

8 months post corticosteroid pulse therapy, before pirfenidone

1 year after starting pirfenidone therapy

Pulmonary Function

 VC (L)

2.60

3.62

3.75

4.12

 %VC

78.6

102.4

106.4

103.1

 TLC (L)

4.52

5.71

5.53

6.65

 %TLC

77.4

97.8

94.5

106.3

 DLco(mL/min/mmHg)

11.24

14.70

14.71

15.89

 %DLco

56.5

72.8

72.6

78.9

Serum Marker

 KL-6 (U/mL)

472

412

326

287

 LDH (IU/L)

328

307

319

237
×
Bronchoalveolar lavage was performed to exclude other identifiable etiologies, and demonstrated negative results for bacterial culture and an almost normal cell differential count (alveolar macrophages 97%, neutrophils 1%, lymphocytes 1%). Under the diagnosis of exacerbation of BILI, the patient was administered four courses of corticosteroid "pulse" therapy (1 g of methylprednisolone per day, on days 1–3, q7d) to evaluate the maximum effect of corticosteroids. After 1 month of induction therapy, his pulmonary functions and symptoms, as well as HRCT findings, were markedly improved (Fig.
1b
). Oral prednisolone (15 mg per day) was introduced as the maintenance dose and gradually tapered to 10 mg per day due to his impaired glucose tolerance.
On the follow-up visit at 8 months after the induction therapy, his HRCT findings demonstrated newly developed ground glass opacities on the outer fields of the bilateral lungs (Fig.
1c
). Maintenance therapy with high-dose prednisolone did not seem well adapted to the patient due to his complications (glucose intolerance and cataracts) as well as the insufficiency of its long-term therapeutic effect. With the consent of the patient, administration of pirfenidone was initiated for the non-resolving lung injury with the expectation of sparing the dose of corticosteroids and stabilizing the BILI activity. Pirfenidone at 1800 mg per day orally was well tolerated, and had improved the reticular and ground-glass opacity on HRCT 3 months after initiation. Subsequently, the dose of prednisolone was gradually decreased. One year after the addition of pirfenidone, his HRCT findings (Fig.
1d
) and pulmonary function test findings (Table
1
) remained improved. At the most recent follow-up, he is still in complete remission for seminoma with a successfully tapered dose of prednisolone (2 mg per day) in combination with the gradually tapering dose of pirfenidone.
Discussion and Conclusions
Acknowledgements
The authors have no acknowledgements to disclose.
Funding
This article received no funding for its preparation.
Availability of data and materials
All data generated or analyzed during this study are included in this published article and its supplementary information files.
Ethics approval and consent to participate
The study was approved by the Institutional Review Committee of Nagoya University Hospital (approval number 44).
Consent for publication
Written consent for publication of the case was obtained from the patient.
Competing interests
The authors have no competing interest, including relevant financial interests, activities, and affiliations.
Publisher's Note
Springer Nature remains neutral with regard to jurisdictional claims in published maps and institutional affiliations.
Open Access
This article is distributed under the terms of the Creative Commons Attribution 4.0 International License (
http://​creativecommons.​org/​licenses/​by/​4.​0/​
), which permits unrestricted use, distribution, and reproduction in any medium, provided you give appropriate credit to the original author(s) and the source, provide a link to the Creative Commons license, and indicate if changes were made. The Creative Commons Public Domain Dedication waiver (
http://​creativecommons.​org/​publicdomain/​zero/​1.​0/​
) applies to the data made available in this article, unless otherwise stated.