01.12.2018 | Research | Ausgabe 1/2018 Open Access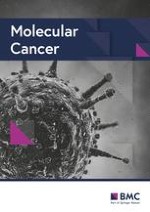 PKN2 in colon cancer cells inhibits M2 phenotype polarization of tumor-associated macrophages via regulating DUSP6-Erk1/2 pathway
Zeitschrift:
Autoren:

Yang Cheng, Yun Zhu, Jiajia Xu, Min Yang, Peiyu Chen, Wanfu Xu, Junhong Zhao, Lanlan Geng, Sitang Gong
Wichtige Hinweise
Electronic supplementary material
Abstract
Background
Protein kinase N2 (PKN2) is a PKC-related serine/threonine-protein kinase. PKN2 is required for tumor cell migration, invasion and apoptosis. However, the functional role of PKN2 in regulating tumor associated macrophages (TAMs) polarization in colon cancer has never been reported.
Methods
PKN2 expression in human colon cancer tissues was examined with immunohistochemistry (IHC). M1/M2 macrophage signatures were evaluated by RT-PCR, IHC and flow cytometry. The effects of PKN2 on tumor growth and TAM polarization were investigated both in vitro and in vivo. PKN2 targeted cytokines/pathway were analyzed by gene expression analysis and further confirmed by PCR, luciferase assay or western blot. Correlations between PKN2 and transcriptional factors for IL4 and IL10 were confirmed by ChIP-qPCR. The catalytic activities of PKN2 and DUSP6 were determined by kinase activity assay. Interactions between PKN2 and DUSP6 were confirmed by Co-IP.
Results
The expression of PKN2 in colon cancer cells predicted a favorable prognosis and was associated with low M2 macrophage content in human colon cancer tissues. PKN2 inhibited tumor growth in mice xenograft model and inhibited M2 phenotype polarization both in vitro and in vivo. Mechanistically, PKN2 suppresses the expression of IL4 and IL10 from colon cancer cells by inhibiting Erk1/2 phosphorylation, which is required for phosphorylation and binding of CREB and Elk-1 to the promoters of IL4 and IL10. DUSP6, which is phosphorylated and activated through direct association with PKN2, suppresses Erk1/2 activation.
Conclusions
The expression of PKN2 in colon cancer cells suppresses tumor associated M2 macrophage polarization and tumor growth. Targeting PKN2 signaling pathway may provide a potential therapeutic strategy for colon cancer.